Regular price
$13.95 USD
Sale price
$13.95 USD
Unit price
per
Sale
Sold out
Natural Blends essential oil sprays are an organic and truly all natural fragrances. Custom blended in 6 varieties for amazing scent along with aromatherapy qualities.
Natural Blends essential oil sprays

Natural Blends Body & Room Spray gives you the fragrance you're craving without harmful chemicals. Whether you're looking for a natural perfume, mask refreshing spray, room fragrance, or scent for your linens, Natural Blends essential oil sprays are here for you.
Enjoy the delight of natural scent made with organic essential oils, in either a 2 ounce or 4 ounce amber glass spray bottle. This all natural essential oil spray is custom blended in 6 different scents to bring you the benefits of aromatherapy in easy to use sustainable packaging.
Why a natural fragrance?
The ingredient "fragrance" is actually a man-made chemical. Artificial chemical fragrances are known hormone disruptors, cancer causing agents, and can aggravate lung issues such as asthma and COPD. Most commercial air fresheners and perfumes actually cause harm to you and your family. Natural Blends Body & Room Spray offers you all natural scents as an organic alternative.
What do they smell like?
Natural Blends Body & Room Spray comes in 6 different scents that have been custom blended by me. Use them to carry you through your day. These essential oil sprays are available individually or in a set of all 6 scents. If you prefer the undiluted essential oil blends, you'll want to check out the Essential Blends.
Driftwood Beach
Earthy notes of cedarwood, sandalwood, bergamot, and lemon. Driftwood Beach is a rich, natural, almost masculine blend that reminds you of exploring a hidden beach. This blend promotes balance, spiritual cleansing, and harmony. Driftwood Beach can be helpful during stressful periods to help balance your emotions.
Energize Me
Exhilarating notes of sweet orange, tangerine, lemon, bergamot, pink grapefruit, and cedarwood. Energize Me is an uplifting blend that reminds you of walking through a grove of citrus. This blend promotes cleansing and purification. Energize Me is outstanding when used with a cup of coffee or tea for an afternoon boost to lagging energy.
Grounding Blend
Quiet and harmonious notes of vanilla, lavender, sandalwood, ylang ylang, and patchouli. Grounding Blend is a sweet and gentle blend that brings you down to earth with a centered feeling. This blend promotes calming of the mind, easing of anxiety, and centered sexuality. Grounding Blend is wonderful to use before meditation, self-reflection, and self-care.
Memory Booster
Stimulating and refreshing notes of rosemary, lemon, frankincense, peppermint, and clove. Memory Booster is a rejuvenating blend whose herbal scent gives a gentle push to a tired brain. This blend promotes remembrance, positive self-esteem, and cleansing of the mind. Memory Booster pairs well with a quick walk and an afternoon cup of tea for a boost of clarity.
Stress Reducer
Soft and soothing notes of lavender, ylang ylang, vetiver, lemon, frankincense, and bergamot. Stress Reducer is a calming, floral blend that reminds you of a slow walk through a flower garden. This blend promotes peace, serenity, and relaxation. Stress Reducer is an excellent addition to stress reducing techniques such as deep breathing, journaling, and time spent in nature.
Sleep Tight
Deep and herbal notes of lavender, lavendin, vetiver, cedarwood, and frankincense. Sleep Tight is a calm and earthy blend that quiets your mind and relaxes your body. This blend promotes restful slumber, calming of the mind, and shielding. Sleep Tight can be an excellent addition to any nighttime routine.
How do I use Natural Blends Body & Room Spray?
Use Natural Blends Body & Room Spray throughout your day, depending on what properties you need. Shake the bottle vigorously before use.
For the body, hold the bottle 6"-8" away before spraying. I use Natural Blends as a natural alternative to perfume or when I need a boost of the aromatherapy qualities.
Spray Natural Blends generously around the room to refresh the scent without harmful chemicals.
Use Natural Blends on your linens to refresh them and leave a pleasant scent at bedtime.
Refresh your mask by using 1-2 sprays of Natural Blends on either the inside or outside of your mask before putting it back on.
More product information
Simple Apothecary only uses sustainable packaging that supports the maximum life of these chemical-free products. You can purchase the Natural Blends Body & Room Spray in either a 2 ounce or 4 ounce amber glass spray bottle. The 2 ounce spray bottle should last 400-450 sprays while the 4 ounce spray bottle should last 850-900 sprays.
As essential oils are a natural product, their potency will decrease over time. No synthetic preservatives are used. Best if used within 1 year of purchase.
All Simple Apothecary products are handcrafted in small batches. Care is taken to ensure each jar is made to exacting standards and set with healing intentions. As such, we do not make large amounts of any product at one time. This occasionally means there are small delays in order fulfillment and we genuinely appreciate your patience AND your business!
#NaturalBlends #BodySpray #LinenSpray
Share
View full details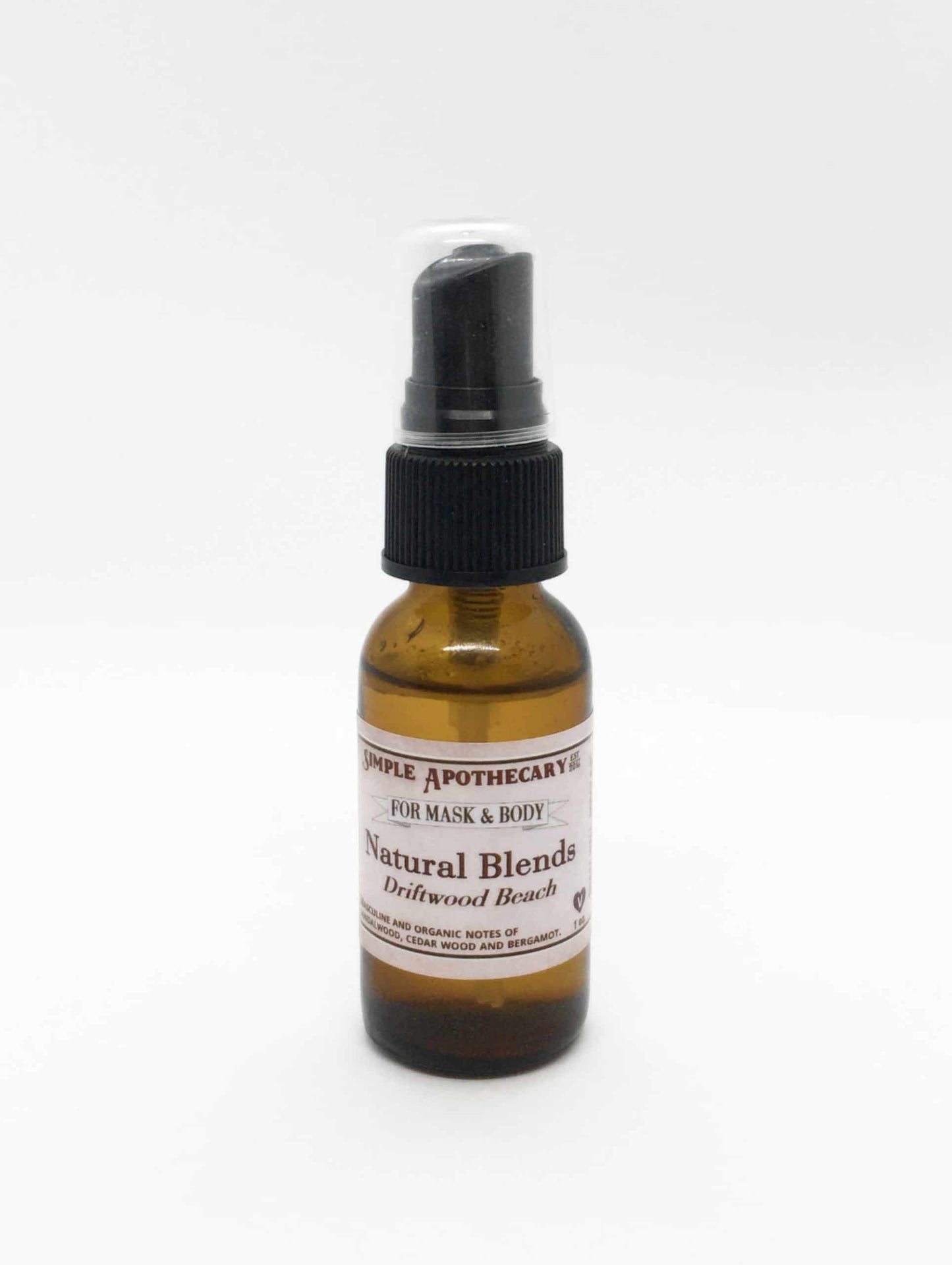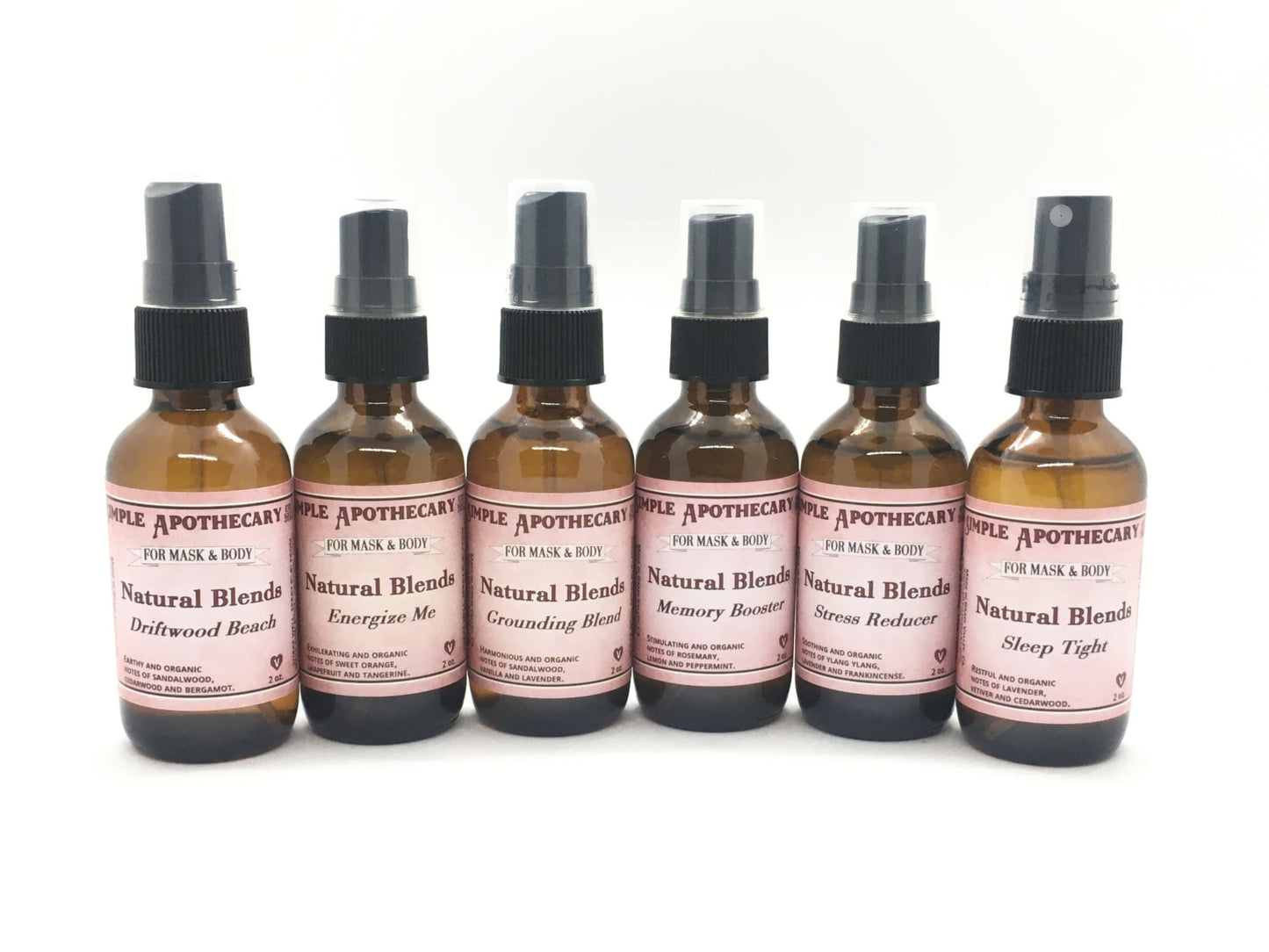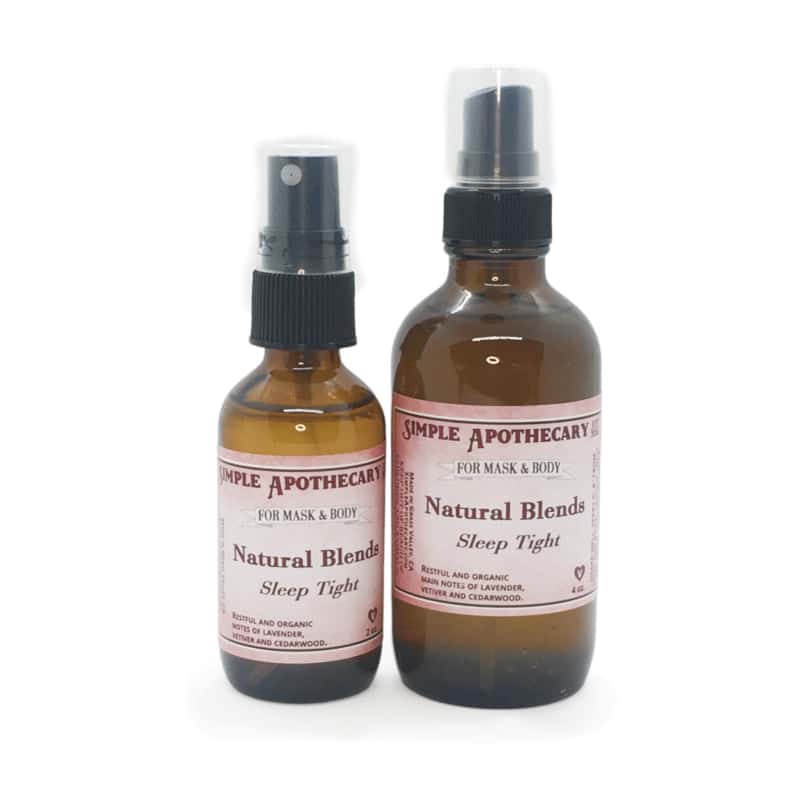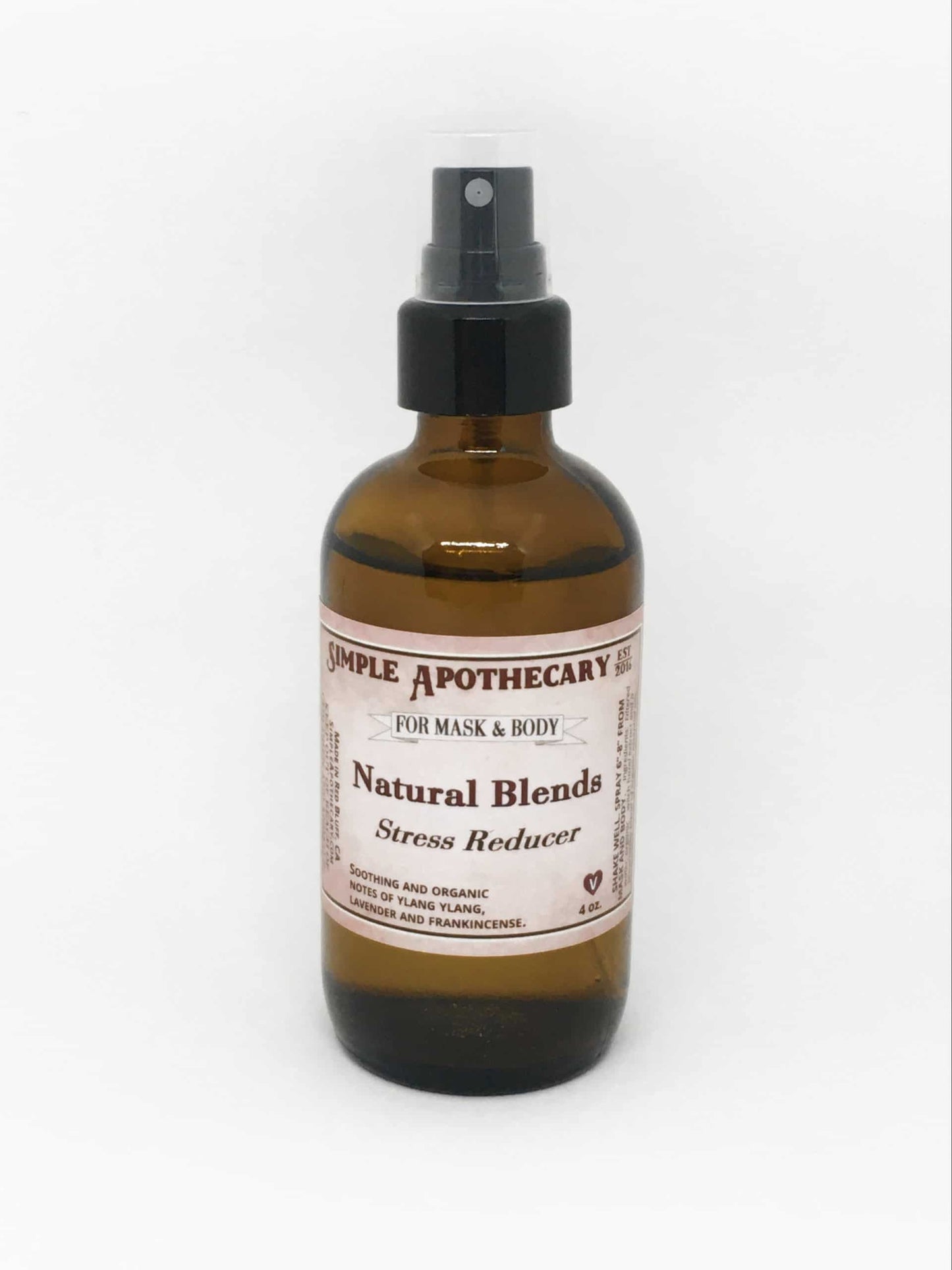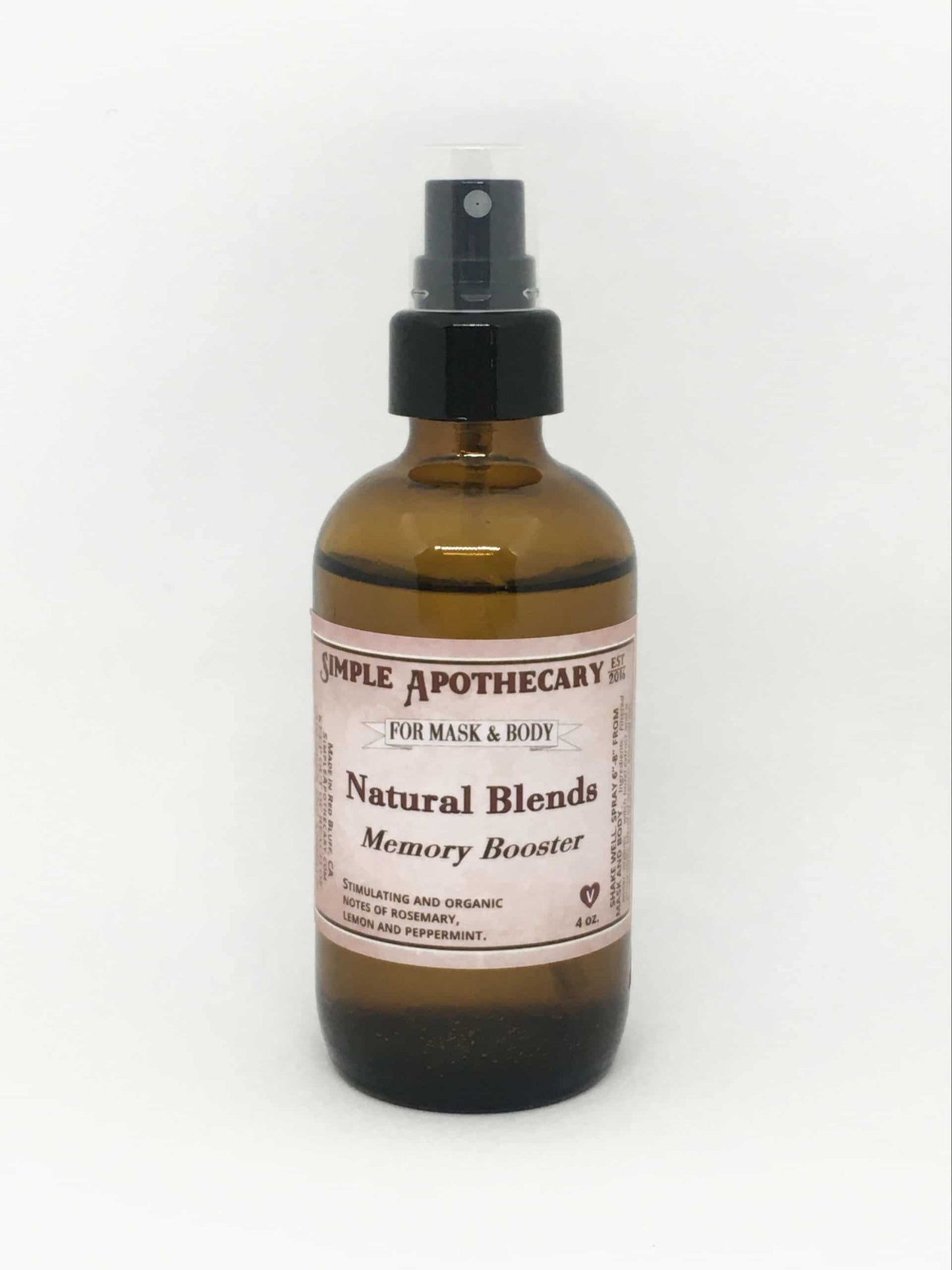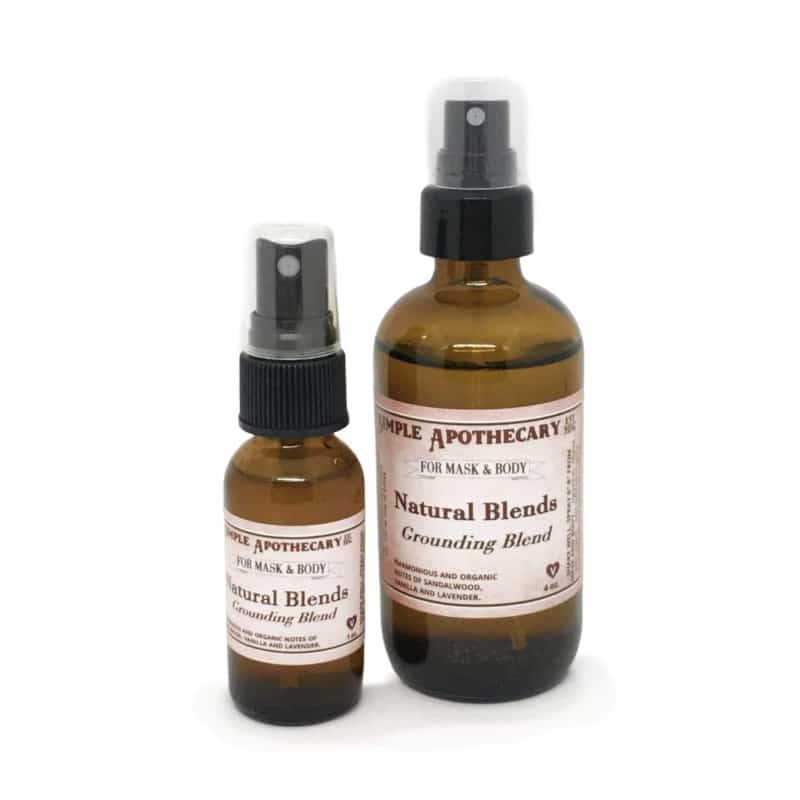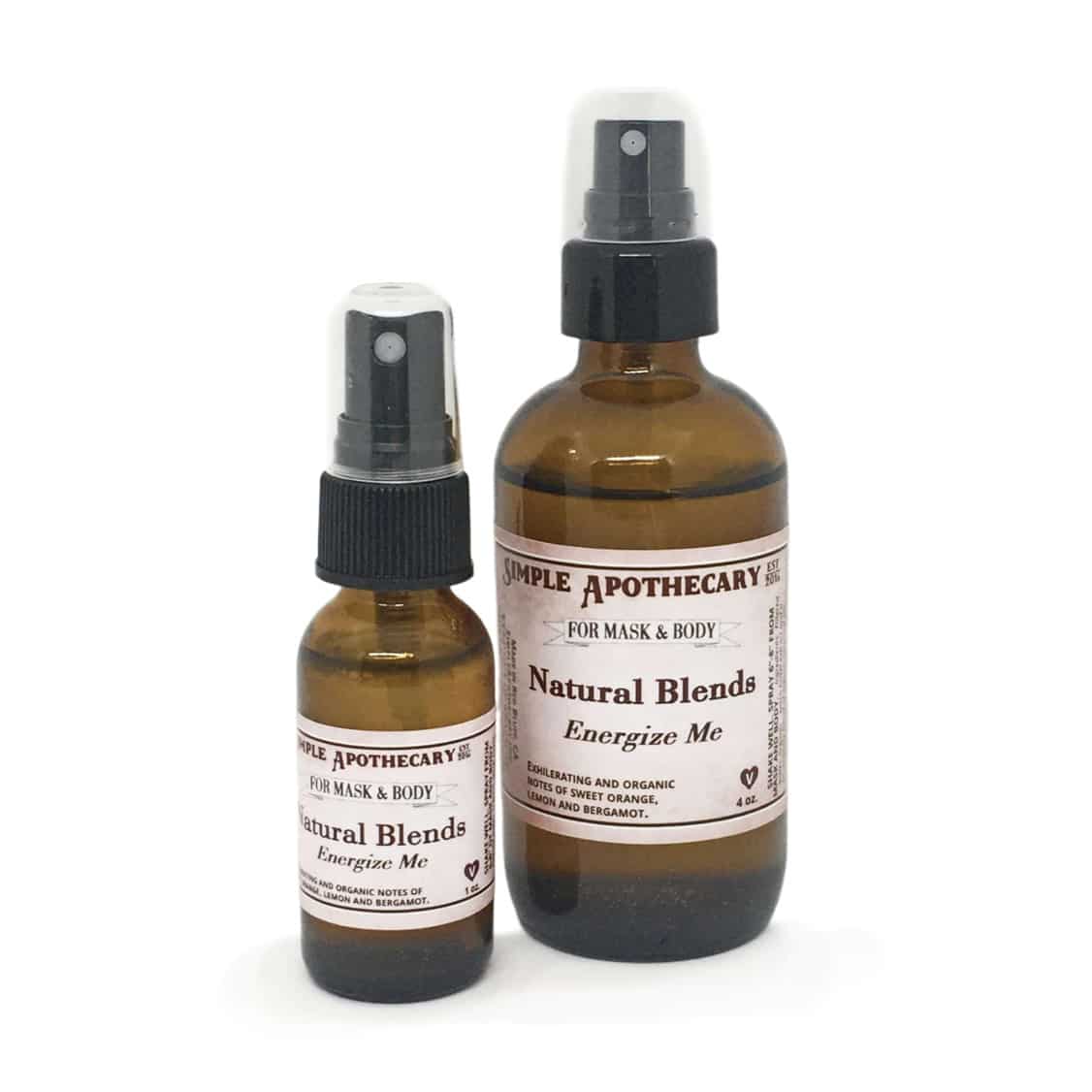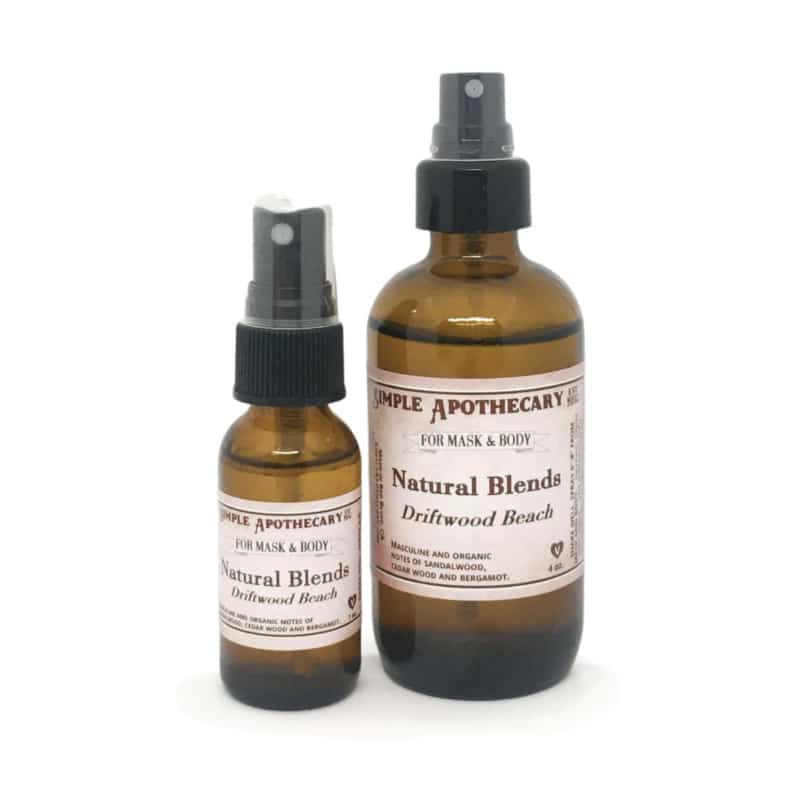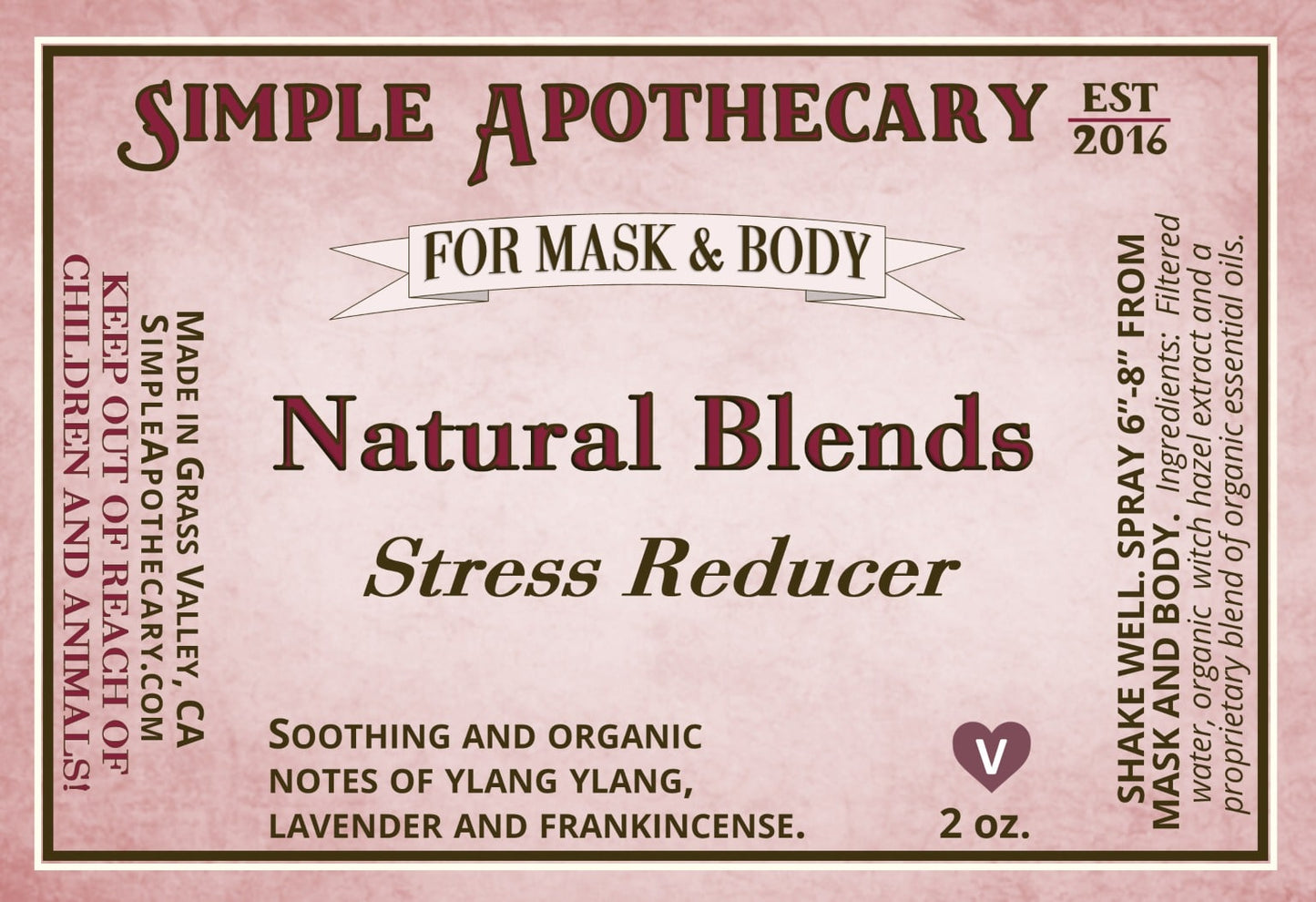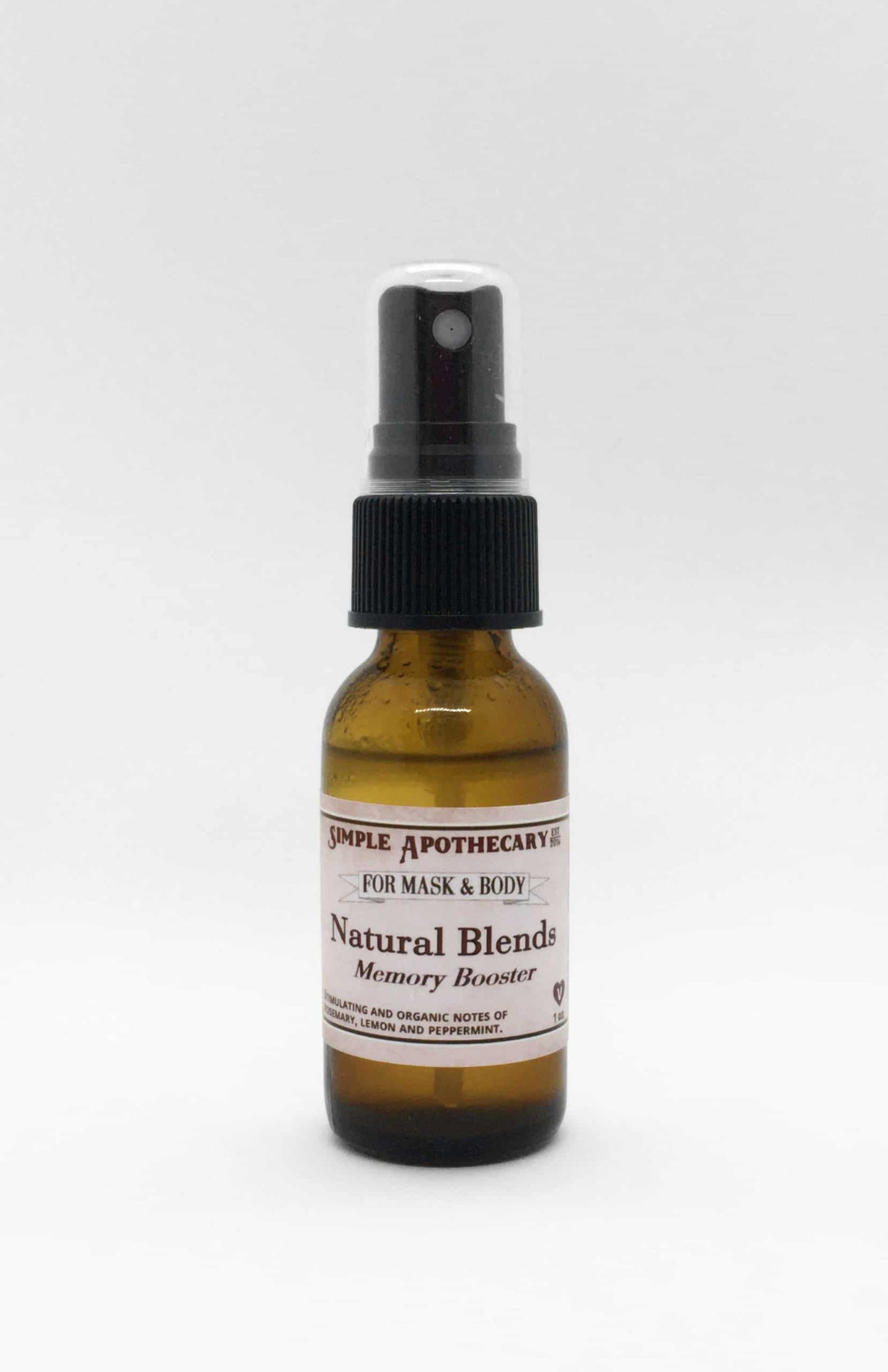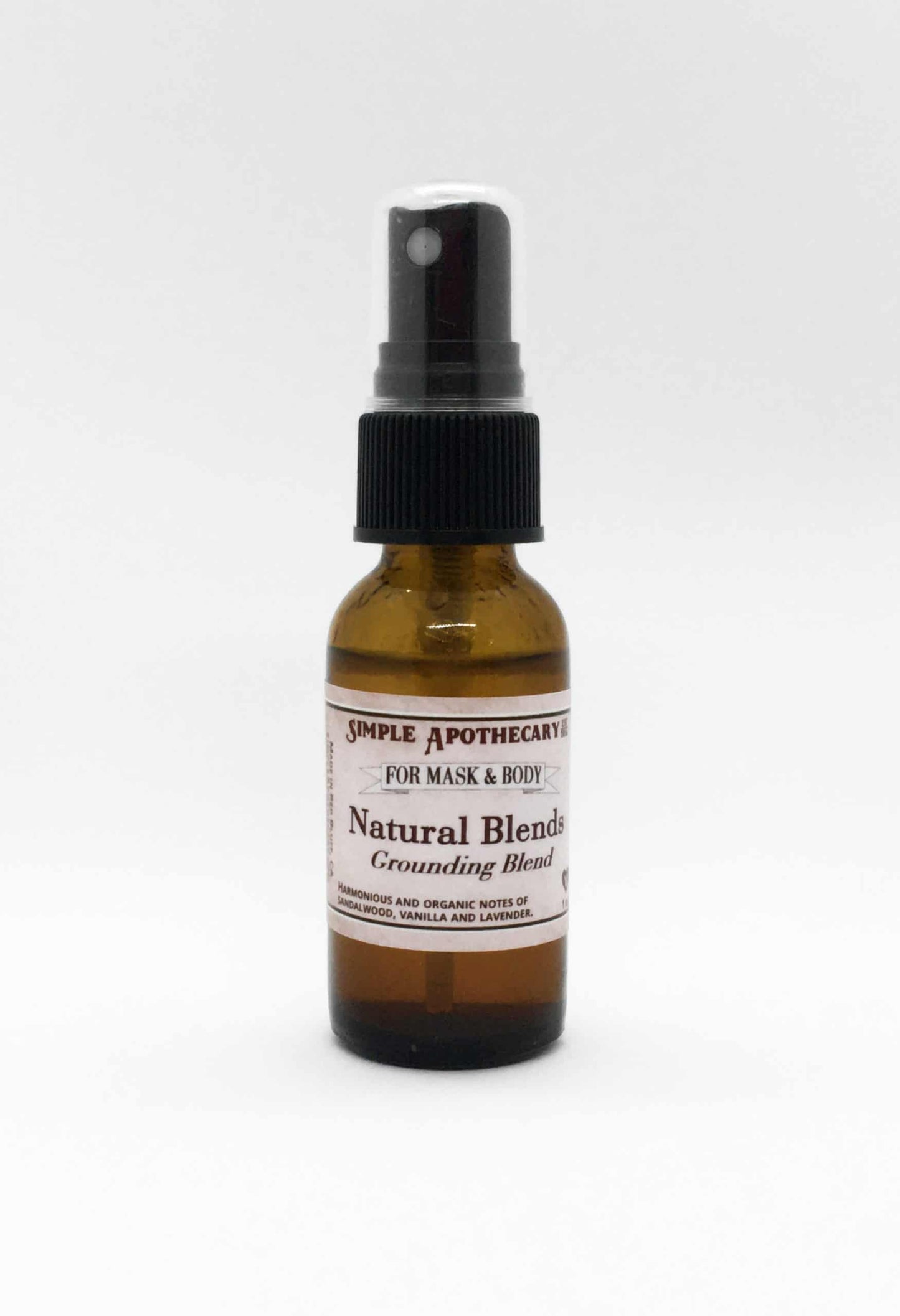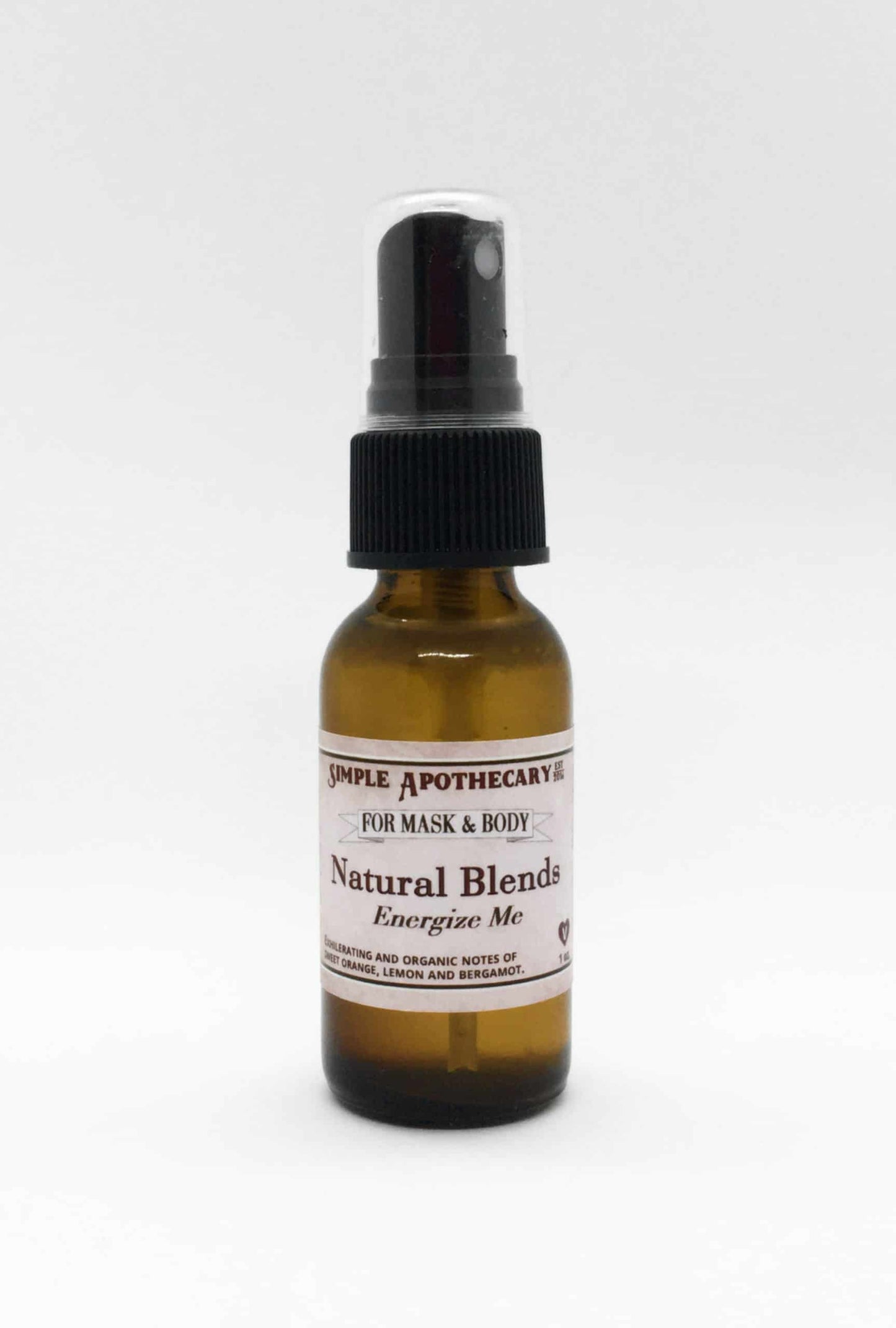 Set with Healing Intentions

Every handcrafted remedy from Simple Apothecary has been set with healing intentions. I consciously think about what this product will do when it reaches your hands!

Made with the Best Ingredients

I only use the best quality raw ingredients that are sustainably and ethically sourced. Everything is as organic and non-GMO as possible.