Regular price
$14.95 USD
Sale price
$14.95 USD
Unit price
per
Sale
Sold out
EASE AWAY: SIMPLE NATURAL RELIEF

Full-spectrum hemp CBD salve with a coconut oil base, a blend of 12 infused and essential oils, and the additional ingredient of magnesium chloride. Lab tested to ensure full CBD content and less than 0.3% THC content.
Ease Away Hemp CBD Salve helps to support nerve and joint health. It can be used as an aid in managing chronic pain, as well as in recovery from injuries or surgery.
2 oz jar contains 250 mg hemp CBD | 0.5 oz tin contains 62.5 mg hemp CBD
Looking to support joint health? You'll want to check out relEASE 250 Hemp CBD Salve with Synergistic Essential Oils. Learn more about deciding which hemp CBD salve is the one you need in my blog post.
WHAT MAKES SIMPLE APOTHECARY BETTER
| | |
| --- | --- |
|  OURS | THEIRS |
| Salve is made in Northern California with certified organic hemp grown in Oregon. | ??? |
| Added magnesium chloride targets muscles and supports sciatic health. | No magnesium chloride |
| Levels of CBD & trace-amounts of THC are lab verified | Unverified or inconsistent levels of CBD & THC |
| Full-spectrum hemp extract | Less effective CBD isolates or THC-free |
| 12 infused & essential oils in a proprietary blend | May have 1 or 2 essential oils |
| Natural & organic ingredients | Questionable ingredients & chemicals |
| Packaging is sustainable, reusable & recyclable | Packaging is single-use |
| Made in small, quality-controlled handcrafted batches | Mass produced with only money in mind |
Share
View full details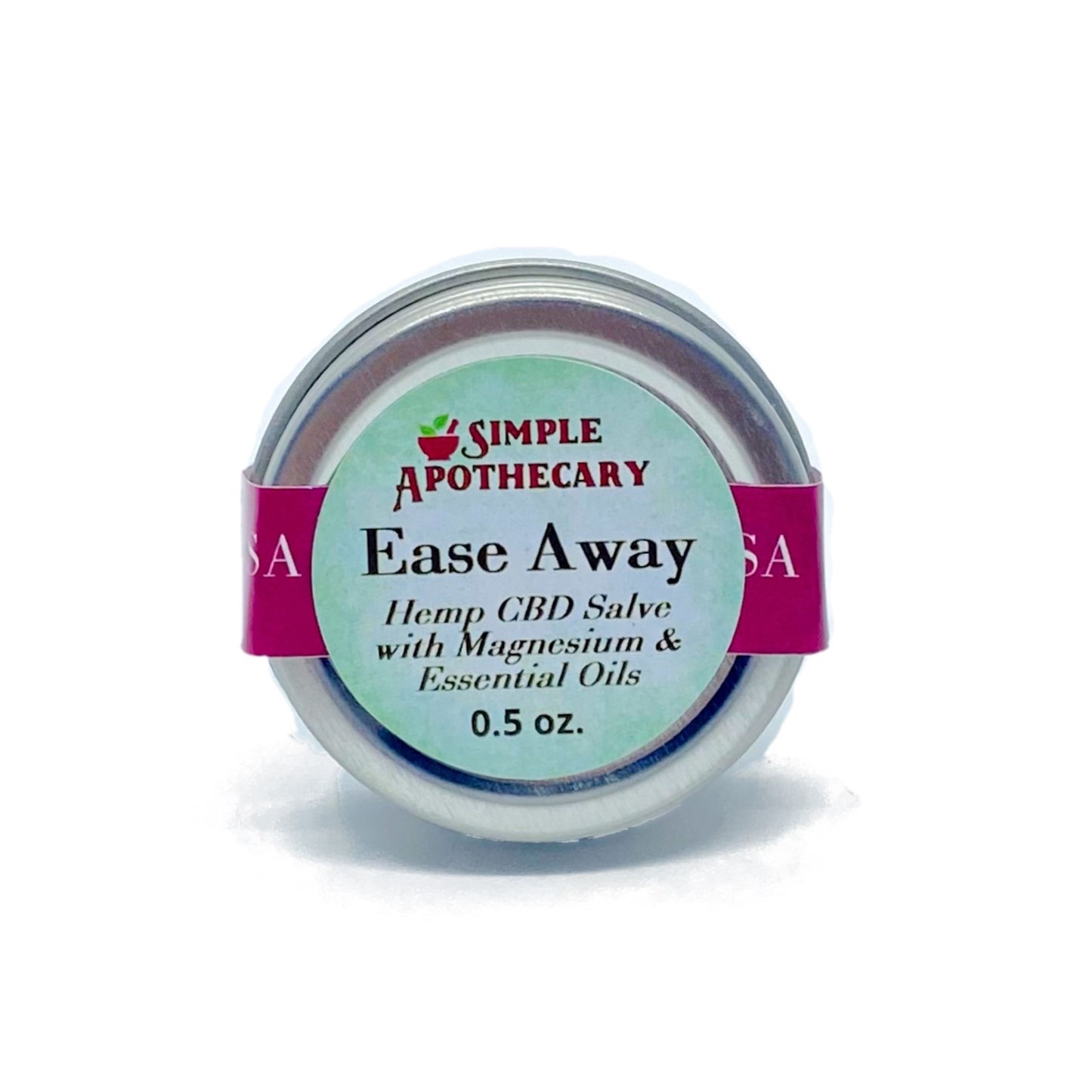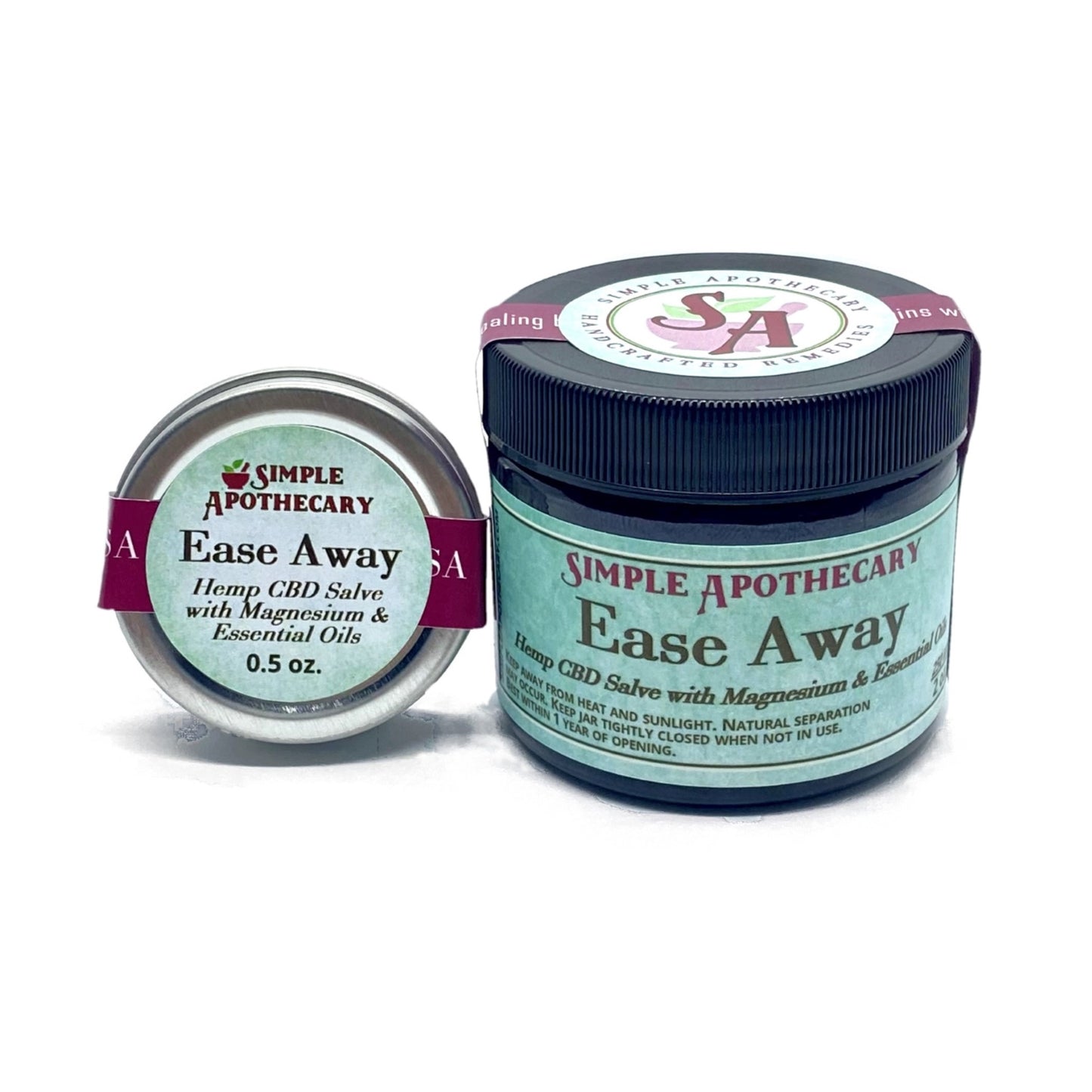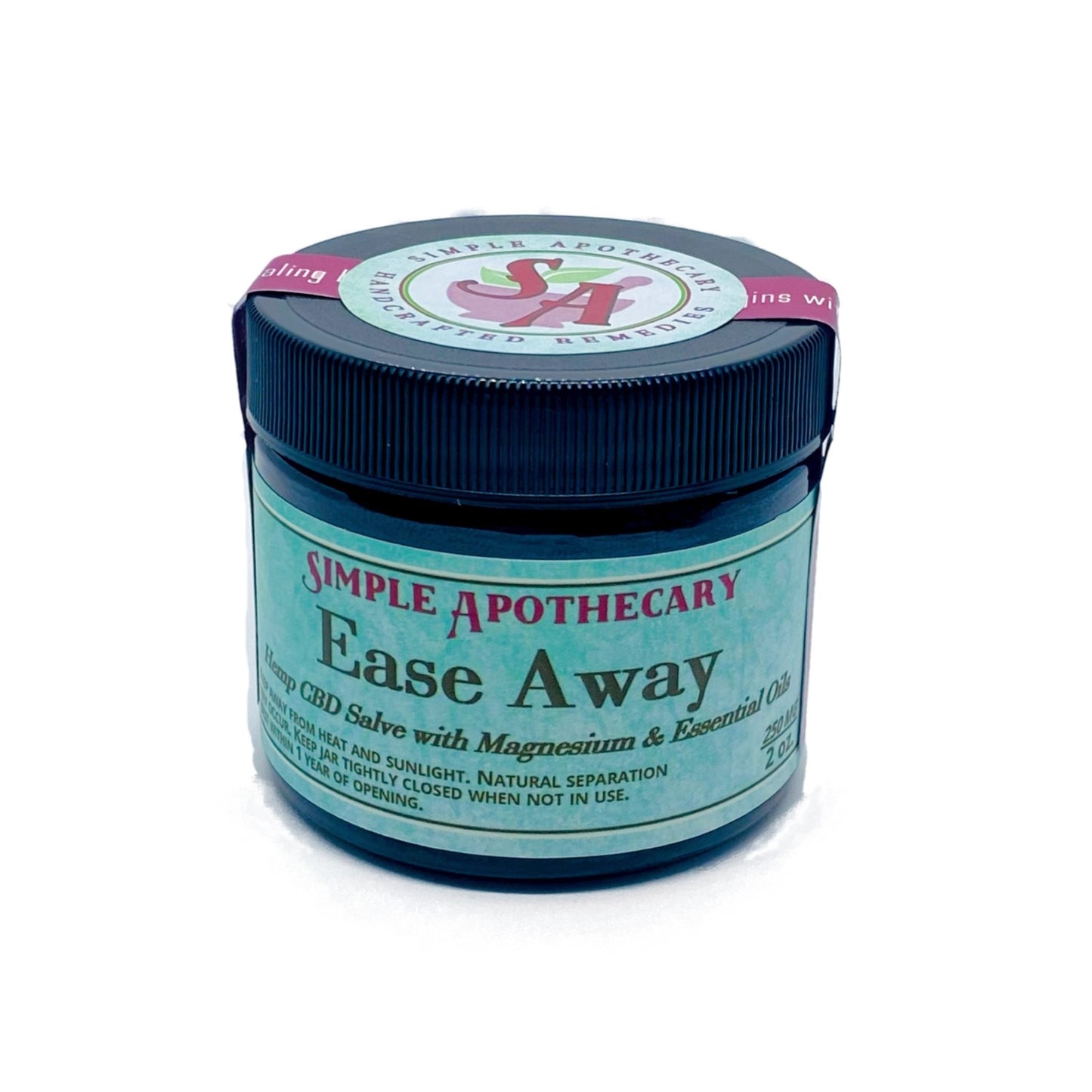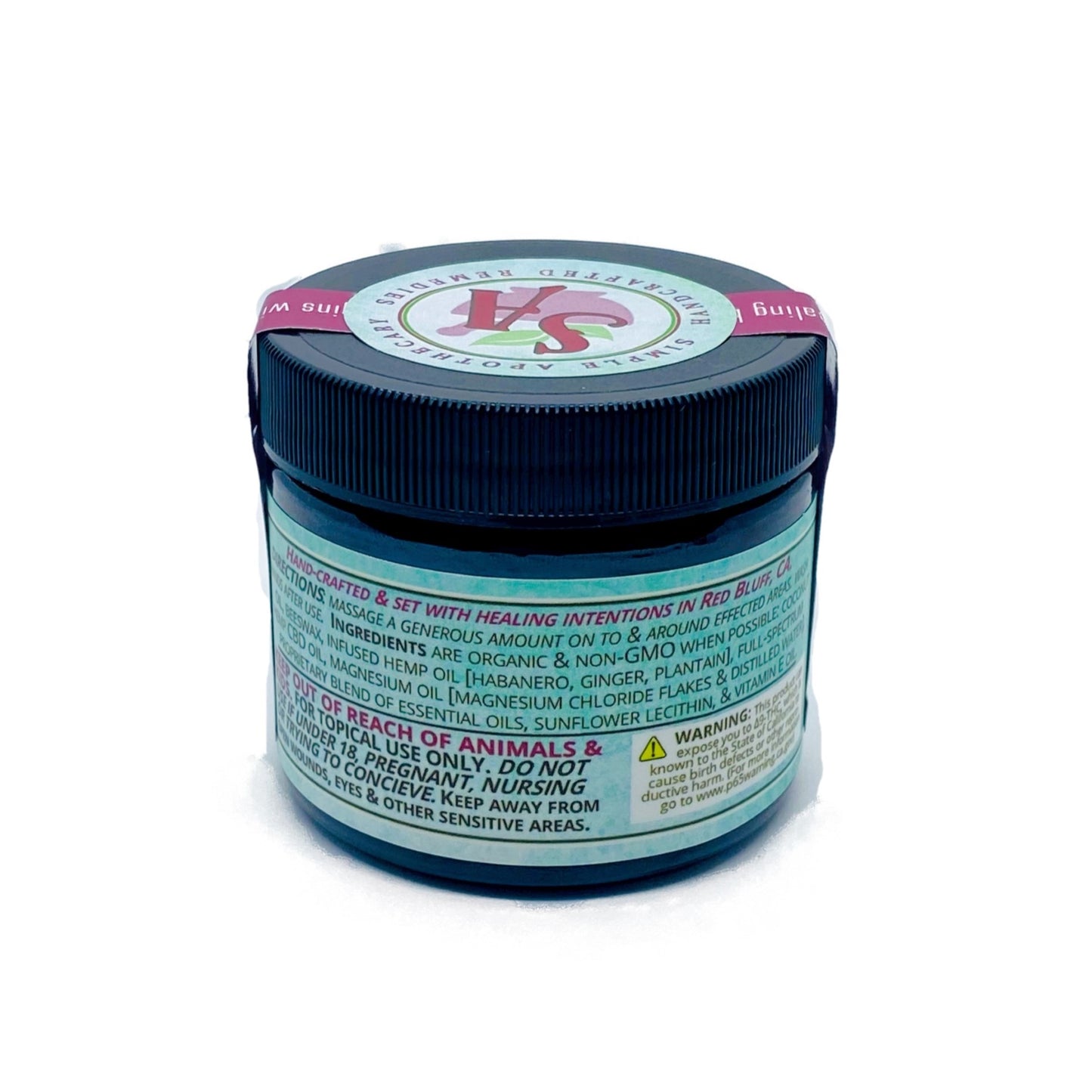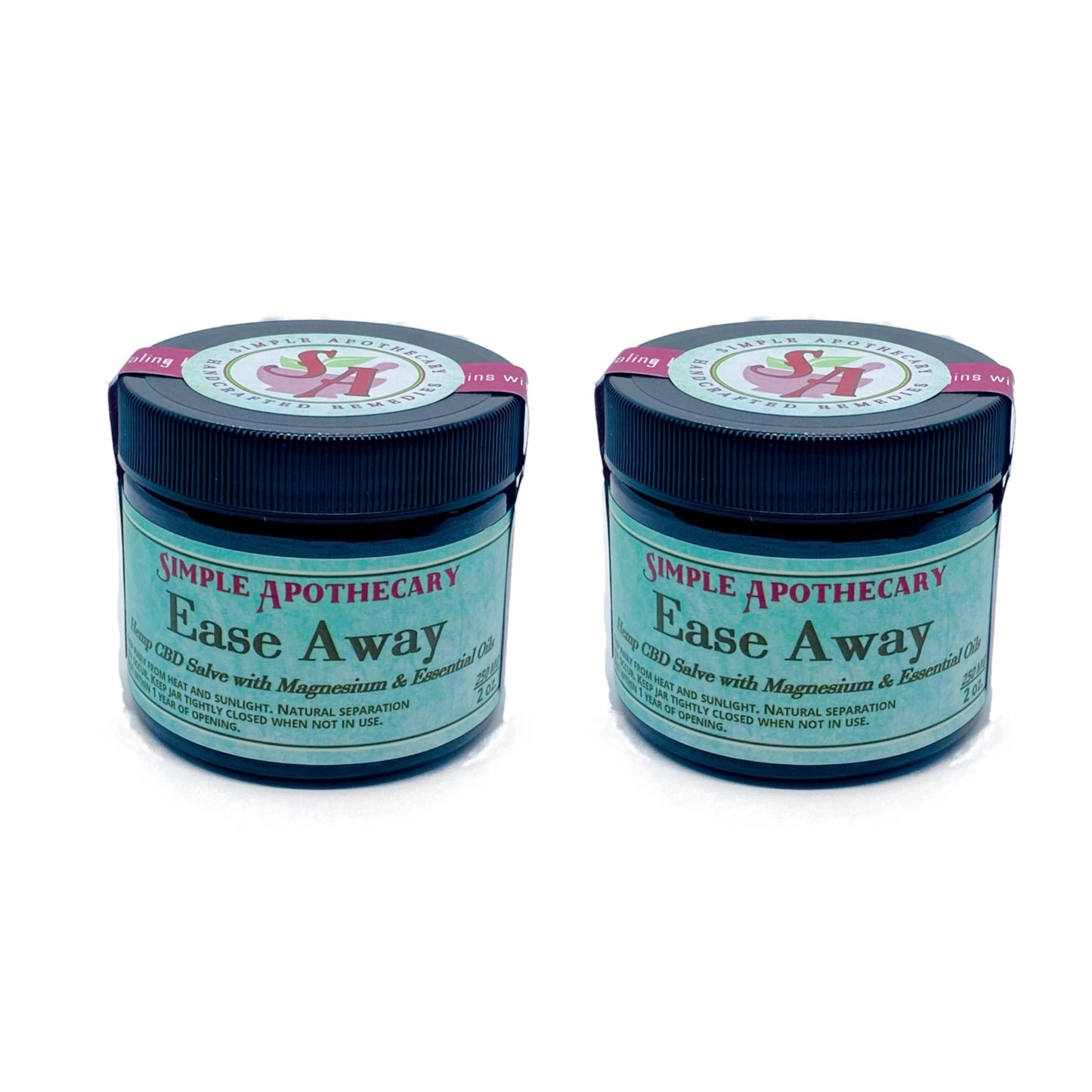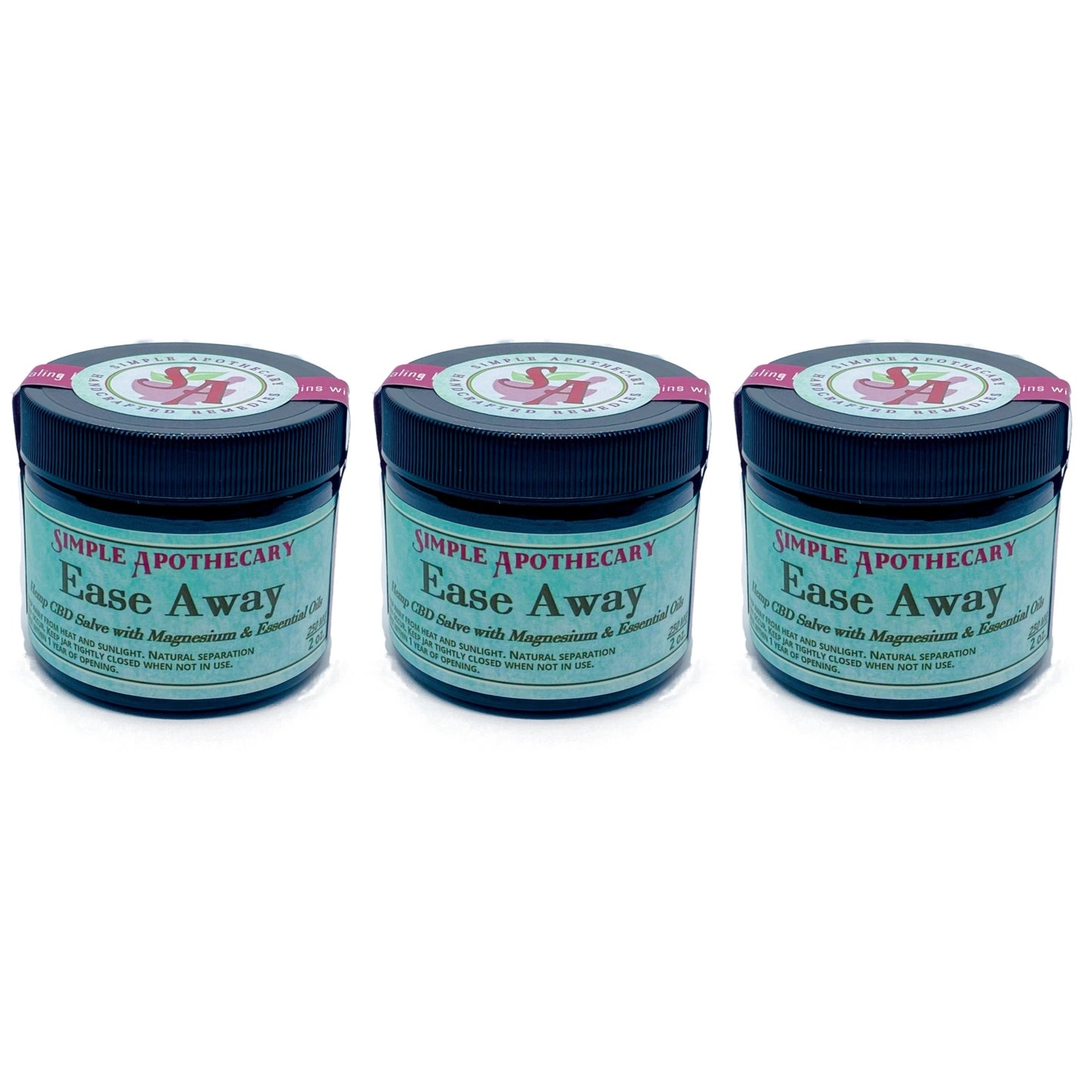 Collapsible content
Simple Natural Relief

WHY YOU'LL LOVE THIS SALVE

What's on the label, is what's in the jar. Batches are randomly tested to ensure correct levels of CBD and trace amounts of THC.
12 infused and essential oils create a synergistic effect working much better than any ingredient on its own, which means less CBD is needed to get results.
Added magnesium chloride oil boosts the support for nerve health.
Full-spectrum hemp extract means a wider variety of cannabinoids and terpenes are present for maximum effectiveness.
Organic and non-GMO ingredients are carefully chosen.
Healing intentions are set with every product, bringing that good energy directly to you.
Sustainable, reusable and recyclable packaging.
Details

0.5 oz trial-size reusable tin

2.0 oz amber glass jar with recyclable plastic lid

WHAT TO EXPECT

Ease Away has a pleasant herbal scent that won't leave you smelling like
a medicine cabinet or a pot farm. The smooth coconut oil-base makes it easy to apply to your worst spots. A minty-hot feeling will happen as you rub this
potent salve in.

Most experience results within the first 20 minutes of application. Over
time, many customers report they can use less product on chronic issues.

While I legally can't tell you what my customers have said my products do
for them, I have a great return policy to put your mind at ease.

All Simple Apothecary products are handcrafted in small batches. Care is
taken to ensure each jar is made to exacting standards and set with healing
intentions.

 

#EaseAway #ItJustWorks #HempCBDSalve
Ingredients

Ingredients are as organic and non-GMO as possible: Coconut oil, beeswax, infused hemp oil [habanero, ginger, plantain], full-spectrum hemp CBD oil, magnesium oil [magnesium chloride flakes & distilled water], proprietary blend of essential oils, sunflower lecithin, & vitamin E oil.

 
Directions for Use

Take a dab of salve and begin warming it in your hands. Apply to the effected area, being sure to avoid any broken skin. Go beyond the area of discomfort, massaging it in deeply.

For knees, elbows, ankles, etc. apply all the way around.

For hands, apply and allow to soak in for at least 30 minutes before washing hands.

Close your eyes while applying. Imagine the feeling of relief in your body.

Avoid broken skin and eyes. Wash hands carefully after use.

NOT FOR USE ON ANIMALS, CHILDREN, OR WHILE PREGNANT OR NURSING.

PROP 65 WARNING:

This product can expose you to ∆9-THC, which is known to the State of California to cause birth defects or other reproductive harm. (For more information go to www.p65warning.ca.gov)

 
Test Results

Test Results for Ease Away Hemp CBD Salve with Magnesium & Essential Oils

Simple Apothecary randomly tests Ease Away Hemp CBD Salve to ensure the levels of CBD and THC continue to be at the levels promised.

To locate the test code on your product, look on the bottom of the jar or side of the tin for a small white label with numbers matching one of these results.

 

EA-021123
CBD SALE RESTRICTIONS
The 2018 Farm Bill federally legalized hemp CBD in the United States.
Due to individual state laws, I cannot legally sell or ship hemp CBD products to the following states: DE, ID, IA, ME, MO, NV, SD, UT.
Due to foreign trade laws, I cannot legally sell or ship any hemp CBD products out of the country.
All of my non-CBD products are allowed to be sold & shipped.
I will abide by these laws, but will ridicule them as well.
Set with Healing Intentions

Every handcrafted remedy from Simple Apothecary has been set with healing intentions. I consciously think about what this product will do when it reaches your hands!

Made with the Best Ingredients

I only use the best quality raw ingredients that are sustainably sourced. Every ingredient is as organic and non-GMO as possible.
FDA Disclosure
This website is not intended to provide medical information
and does not claim to cure or treat any disease. Always speak to your
doctor about health concerns.
These statements have not been evaluated by the Food and Drug
Administration. This product is not intended to diagnose, treat, cure,
or prevent any disease.
Choosing a selection results in a full page refresh.
Opens in a new window.