Regular price
Sale price
$7.95 USD
Unit price
per
Sale
Sold out
Funk Off! goes beyond an all-natural cream deodorant and antiperspirant to soothe and protect sensitive skin from bacteria and fungus.
Funk Off! Means Natural Protection that Works
Funk Off… a funny name for a remarkable cream. From your armpits to your feet along with every crease and crevice in between, you too can get the funk off with Funk Off! All Purpose After Shower Cream. It takes longer to say the entire name than it takes for it to work.
Funk Off is tough against the everyday odors, bacteria, and fungus on our skin that create funk, while still being gentle to your body. Funk Off! replaces a variety of products, including commercial deodorants and antiperspirants, anti-chafing, anti-fungal, AND antibacterial creams.
As a natural deodorant for men and women, it just works.
How do I use it?
It's quite easy. Dab a small amount of Funk Off! between the first few fingers of both hands before rubbing it into clean, dry skin. No need to stop at your armpits with this all-natural deodorant- it's made to soothe and protect ALL the raw, rubbed, moist, chafed, or stinky areas on your body.
A little goes a long way, so you'll find a single jar lasts for months at a time. You will appreciate how well this protective cream prevents odor, while the light and pleasant peppermint scent won't overwhelm or compete with anything else you're wearing (such as my Natural Blends spray). Once you rub it in, it won't stain clothing.
Features
Aluminum-free deodorant that is natural AND actually works all day.
Baking soda free.
Light natural antiperspirant.
Safe to use all over the body.
Won't stain clothing.
Soothes inflamed skin while forming a protective barrier against sweat and clothing.
Can be effective in replacing many bathroom products, including those for deodorant, antiperspirant, antibacterial cream, bug bite relief, heat rash, hemorrhoids, Athlete's foot, jock itch, and more.
A little goes a long way!
Virtually scent-free once the cream is rubbed in.
Contains only natural and safe ingredients.
Safe to use on broken skin.
Available in 3 reusable and recyclable container sizes: 0.5 ounce trial-size tin, 2 ounce and 4 ounce sizes amber glass jars.
Ideal gift for anyone with a dirty job!
Great gift for an outdoors enthusiast, thrill seeker, or generally active person.
All Simple Apothecary products are hand crafted with healing intentions in small batches. No synthetic emulsifiers are used, so natural separation may occur in high temperatures- simply stir the product before use. No synthetic preservatives are used, so natural spoilage will occur over time. For best results, please use within 1 year of opening.
#FunkOff #AluminumFree #NaturalDeodorant #DirtyJobs
Share
View full details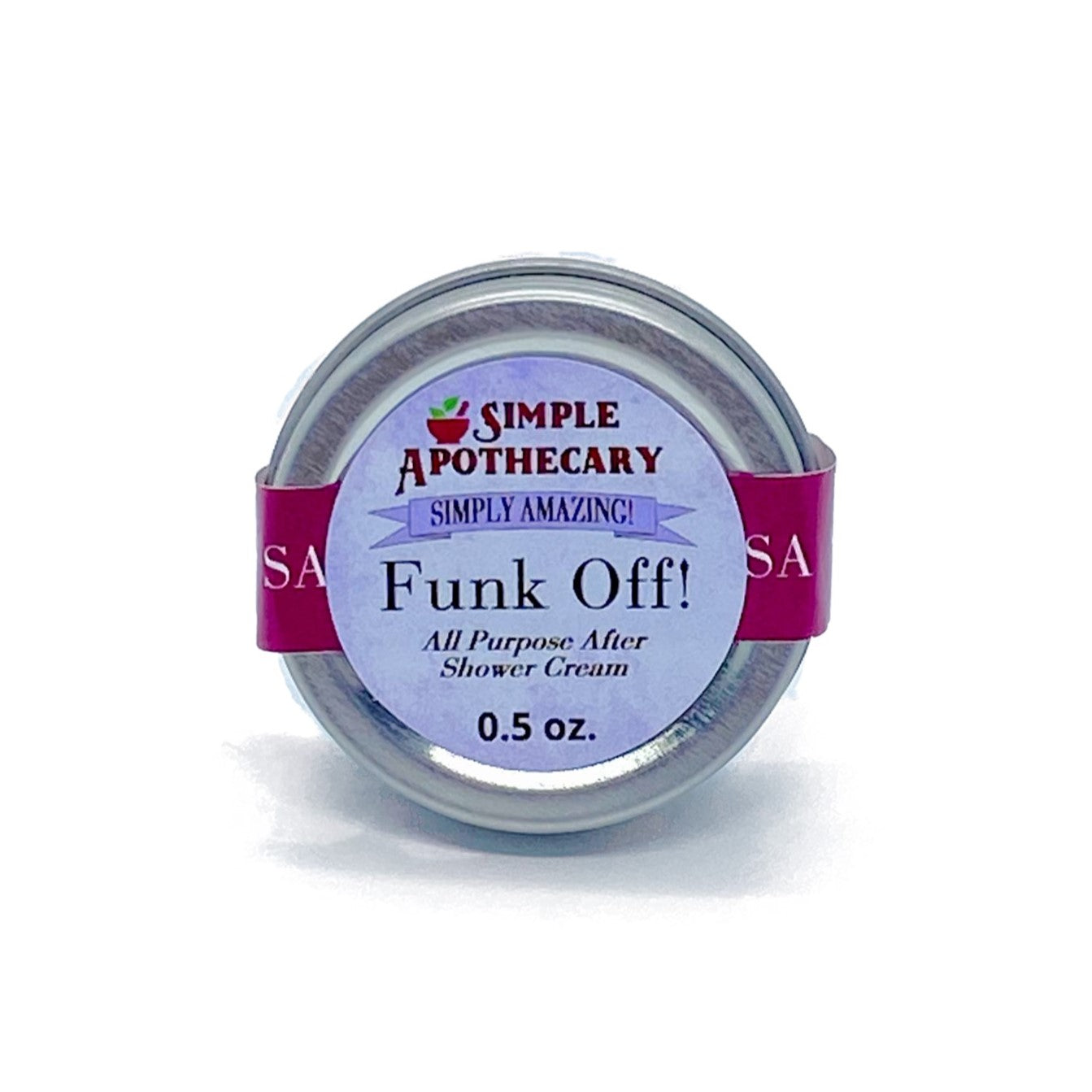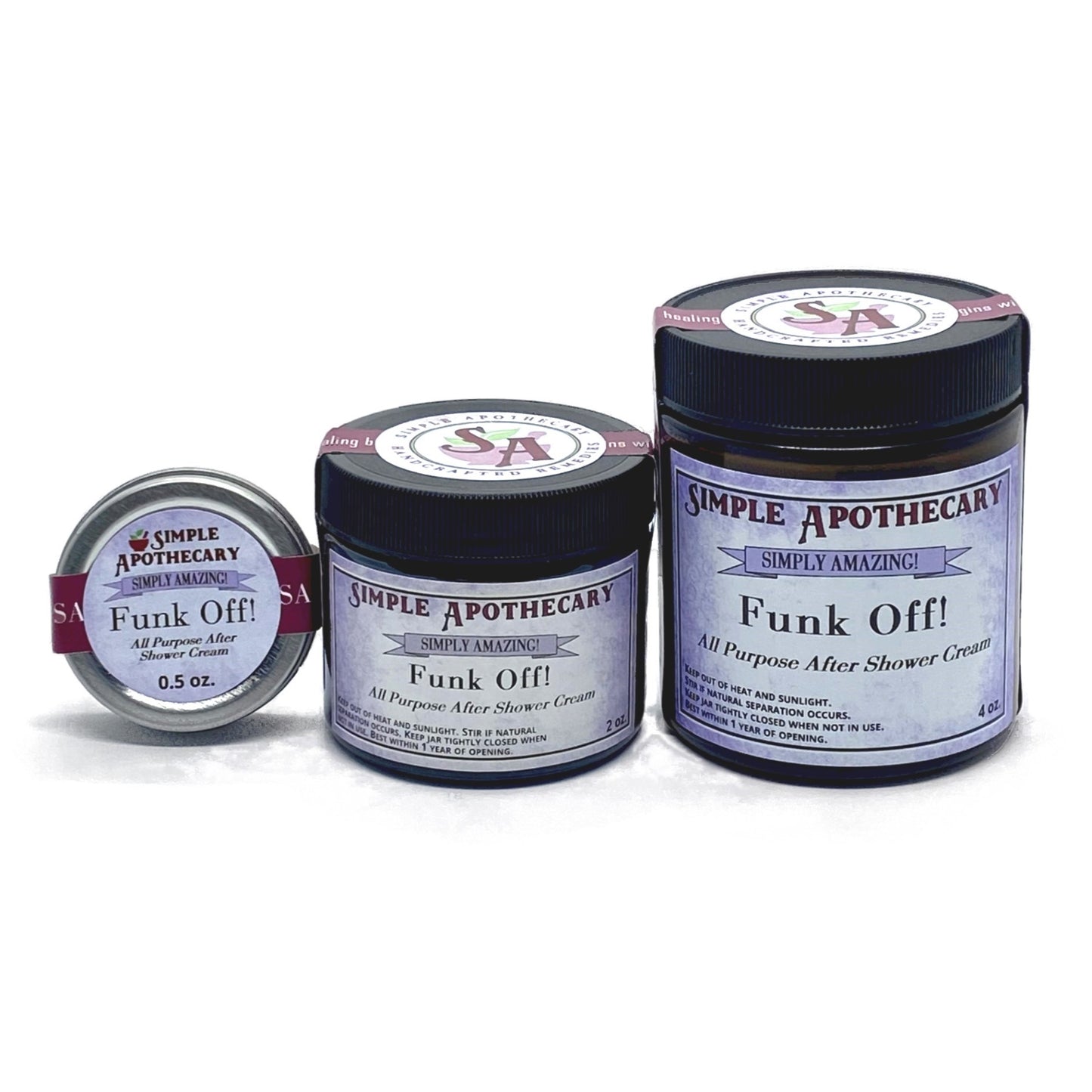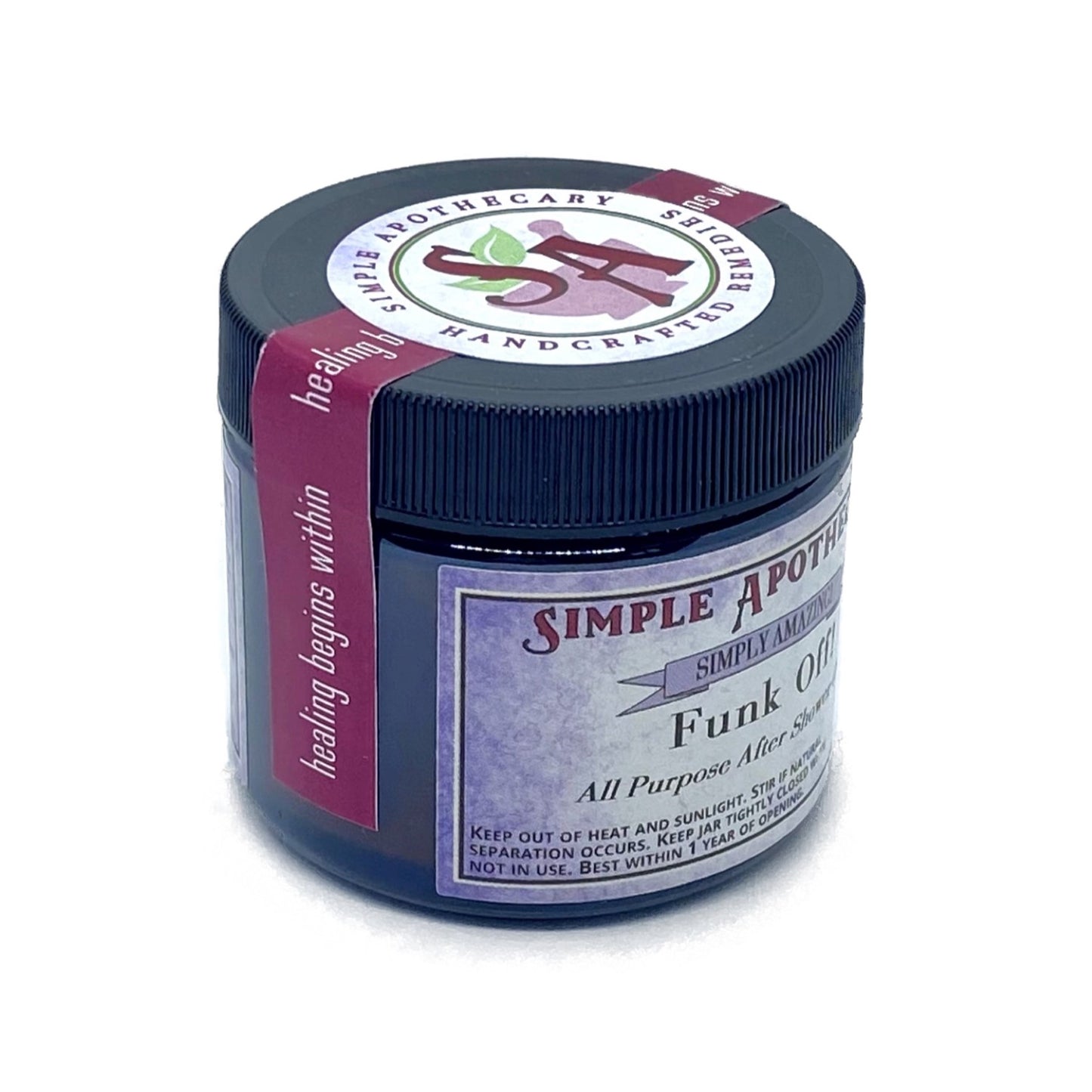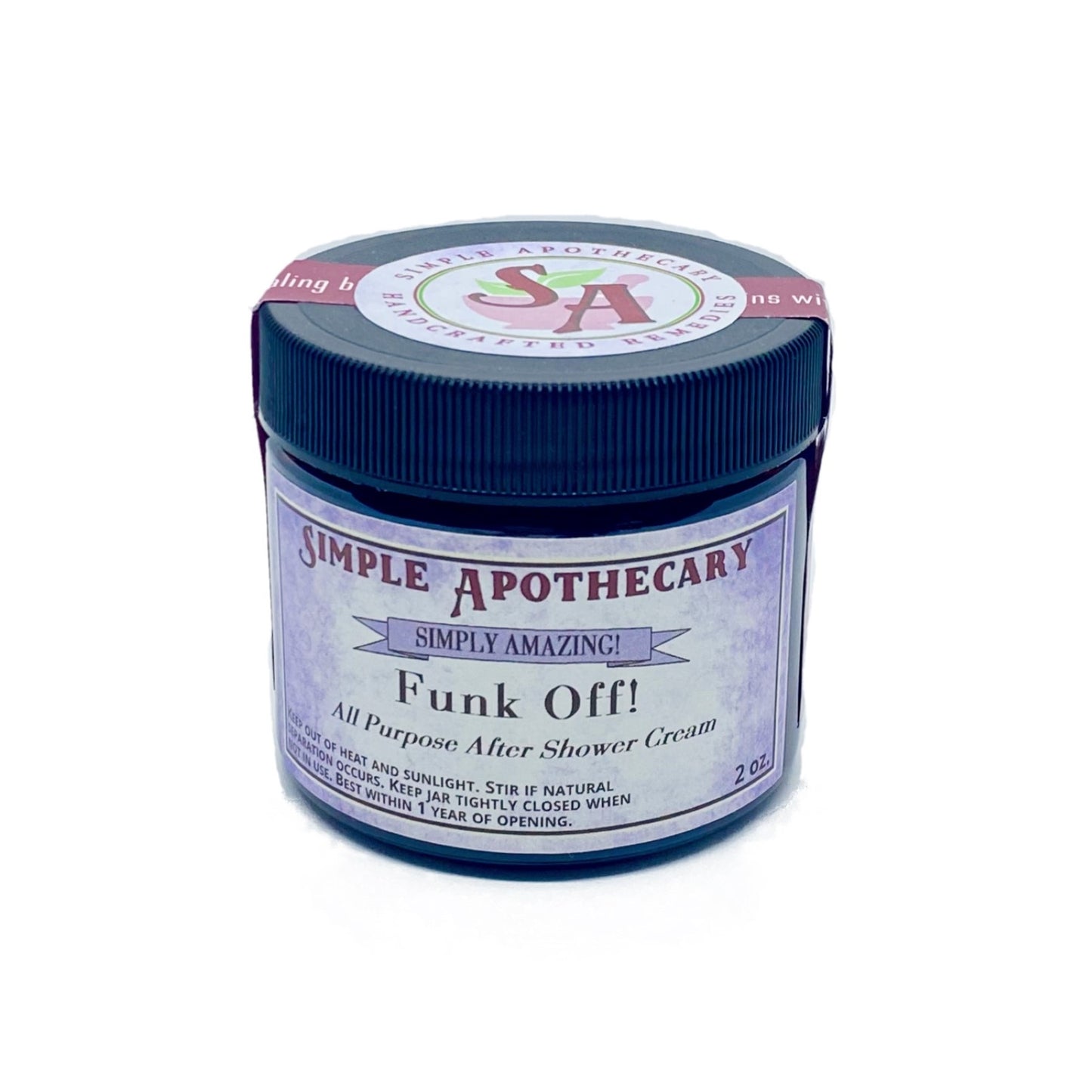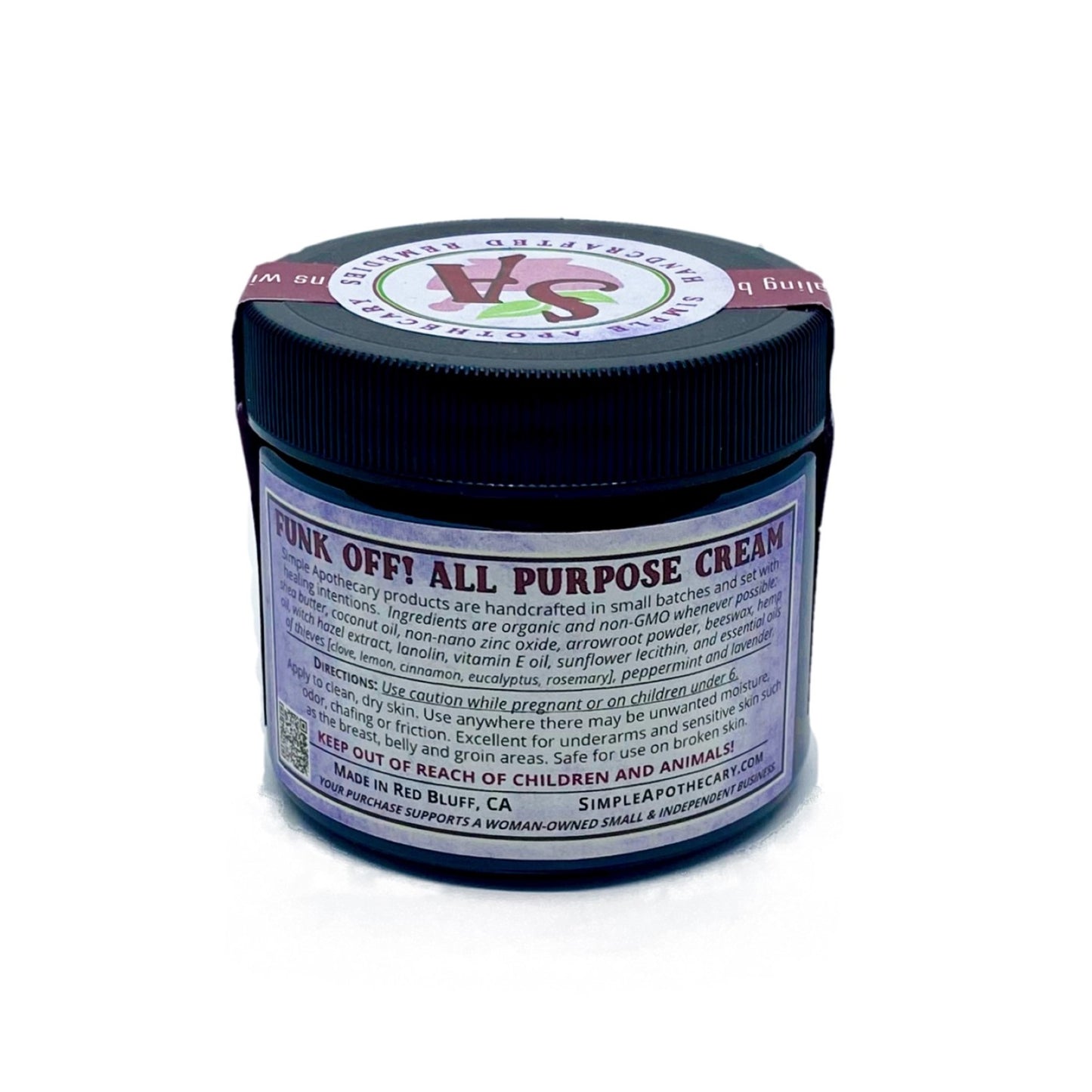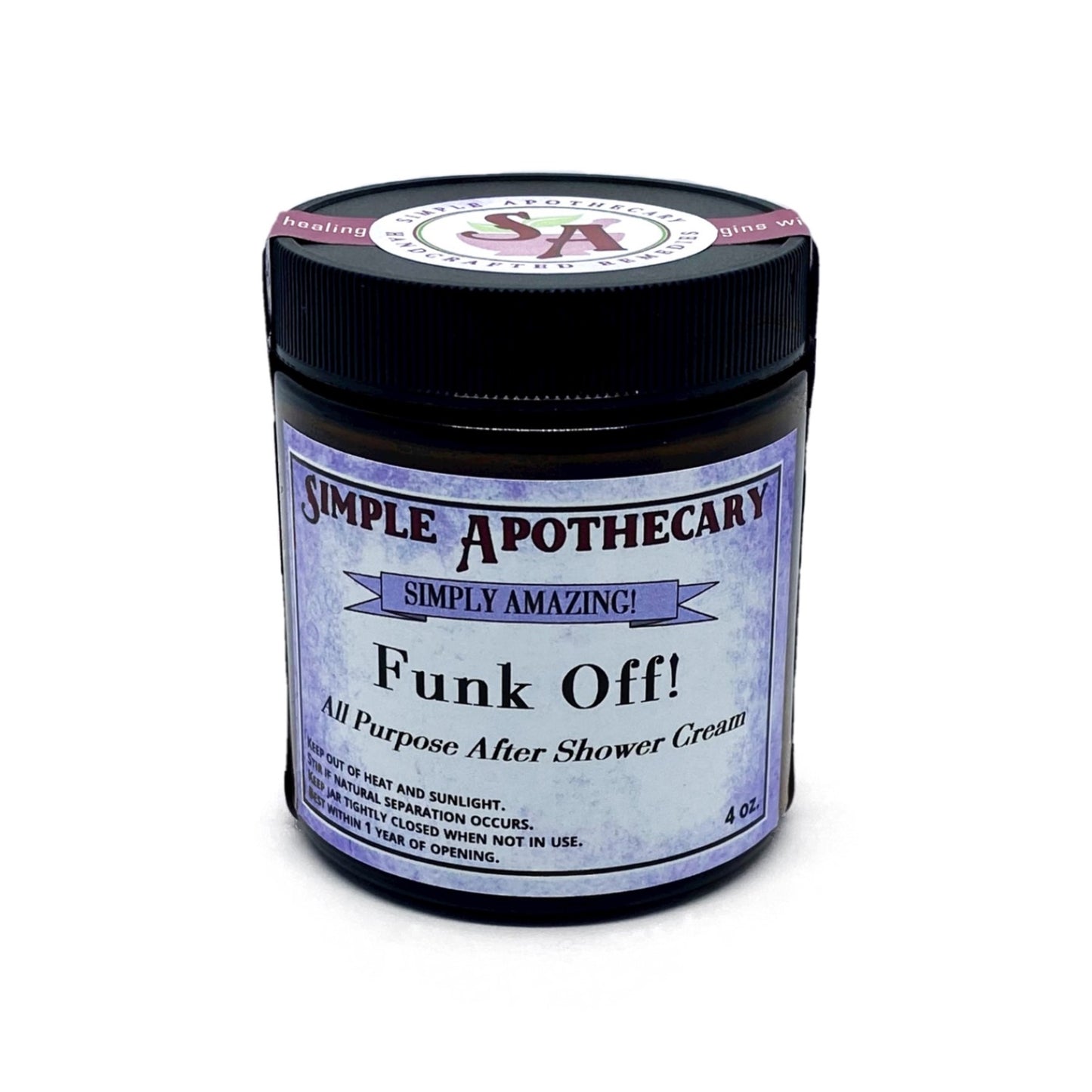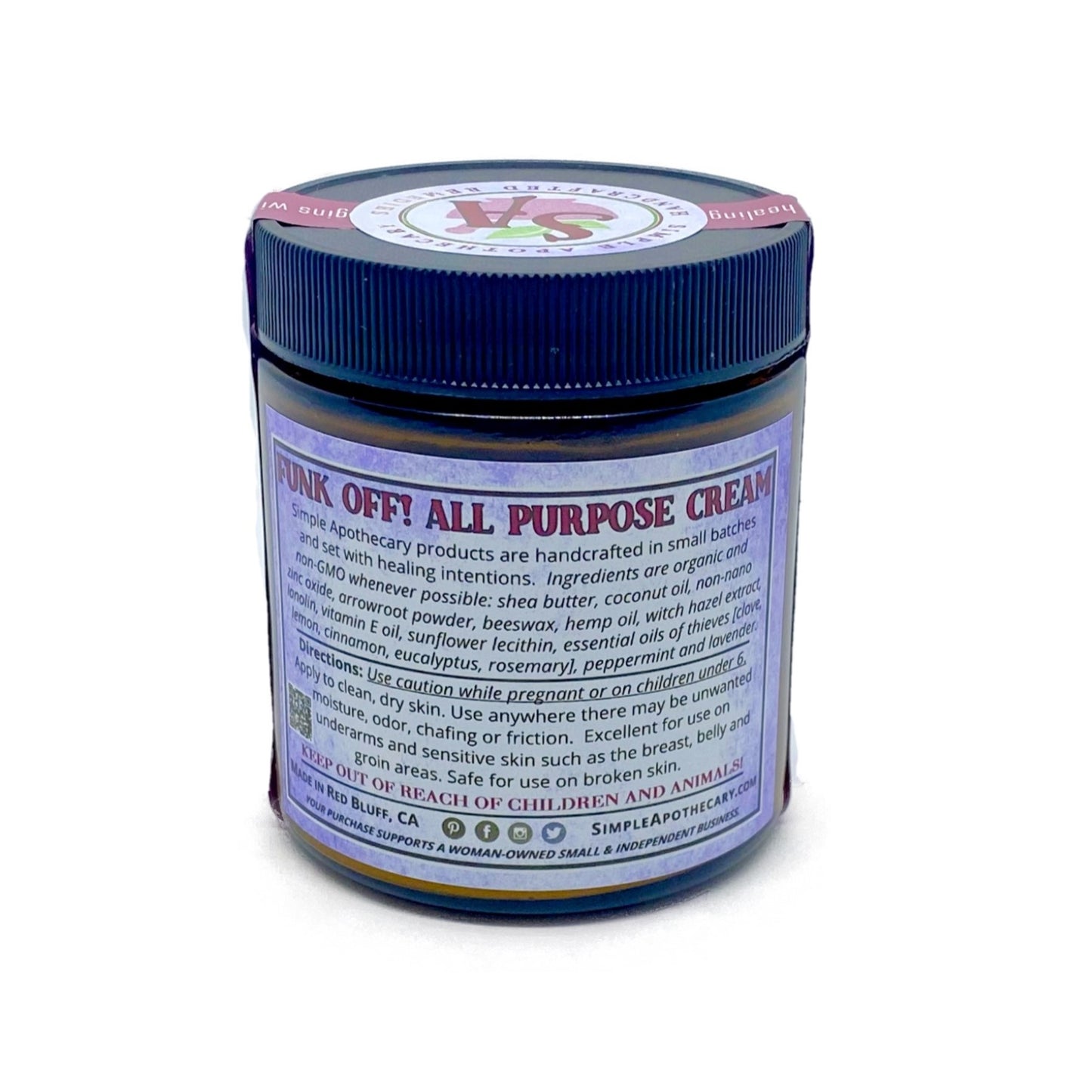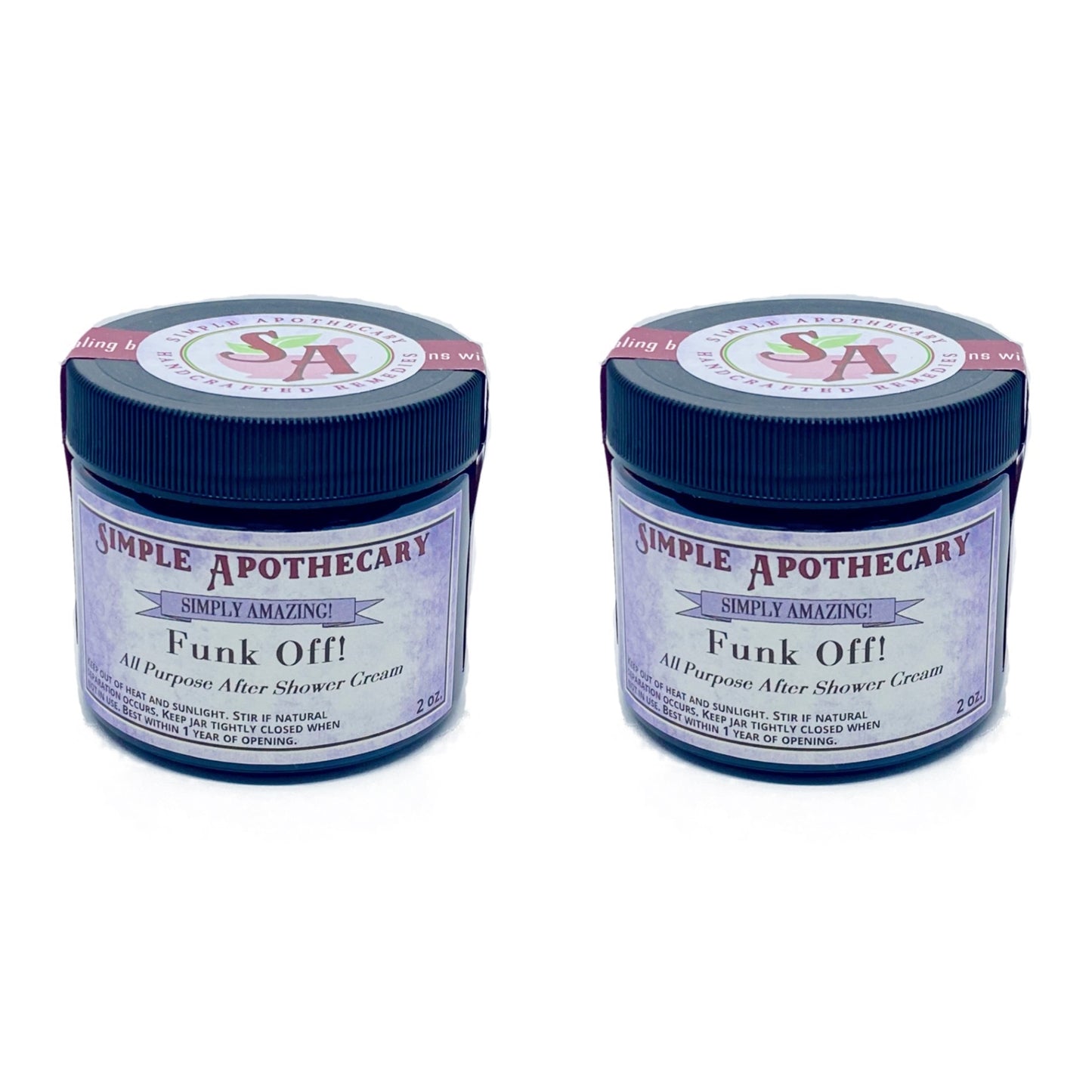 Set with Healing Intentions

Every handcrafted remedy from Simple Apothecary has been set with healing intentions. I consciously think about what this product will do when it reaches your hands!

Made with the Best Ingredients

I only use the best quality raw ingredients that are sustainably and ethically sourced. Everything is as organic and non-GMO as possible.