Regular price
$10.99 USD
Sale price
$10.99 USD
Unit price
per
Sale
Sold out
Organic Tea Tree Essential Oil from Plant Therapy in a 10 ml amber glass bottle. Tea tree has a refreshing green, medicinal, woody aroma.
Plant Therapy means excellent quality Tea Tree essential oil

Simple Apothecary is pleased to offer a limited selection of essential oil singles from a trusted third-party. Plant Therapy uses sustainable efforts to create their outstanding oils. They are considered one of the most trusted brands in the United States with purity testing and sustainable practices.
Many of the essential oils used by Simple Apothecary are from Plant Therapy.
Organic Tea Tree Essential Oil
Organic Tea Tree is one of the world's best known and beloved essential oils. Native to Australia, it is commonly applied around the world for a multitude of uses. It is known to have remarkable effects on irritated skin by helping to ease redness and restore smoothness.
Other popular uses include helping to combat skin blemishes and soothing skin that has been overexposed in the sun. Its refreshing green, medicinal, woody aroma makes it a wonderful addition to natural home-cleaning sprays, especially in steamy, musty areas like the bathroom.
When diffused, it helps support a healthy immune system and can eliminate unpleasant odors. Pair 2 drops of organic tea tree essential oil with 3 drops of organic lemon for a clean and refreshing diffuser blend.
Product Details
Botanical Name: Melaleuca alternifolia
Country of Origin: Australia
Extraction Method: Steam Distilled
Plant Part: Leaves
Strength of Aroma: Medium
Aromatic Scent: Green wood, medicinal scent
More product information
You get 10 ml of Organic Tea Tree Essential Oil packaged in a 10 ml amber glass bottle with a plastic reducer. This allows you to use single drops of essential oil at a time.
KidSafe®: Yes
Pregnancy Safe: Yes
Nursing Safe: No
Pup & Pony Safe: No
Shelf Life: 1-2 Years
Cautions: Do not use undiluted on skin. Keep out of reach of children. If pregnant or under a doctor's care, consult your physician.
#EssentialOils #Organic
Share
View full details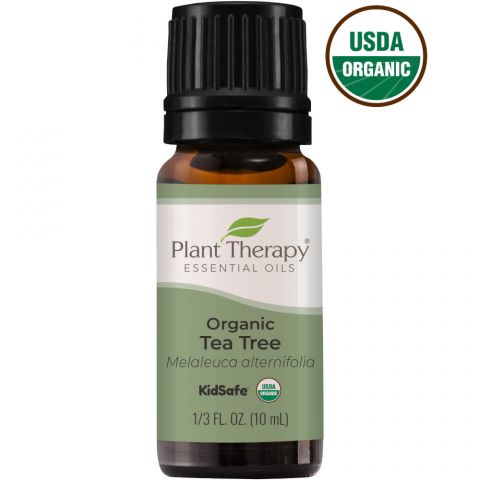 PART OF A CURATED COLLECTION
Simple Apothecary has chosen a select collection of products that enhance or compliment our own remedies. This outstanding product is from a trusted company with similar ethics to our own.