Regular price
Sale price
$18.95 USD
Unit price
per
Sale
Sold out
Great tasting Simple Tooth Powder in three flavors. Freshens breath, remineralizes teeth and promotes healthy gums. Free of gluten, fluoride, SLS and harsh abrasives.
Simple Tooth Powder means natural oral health
Everything old is new again! Tooth powder has been making a comeback as more and more people realize how many unhealthy chemicals are in commercial products. Our mouth readily absorbs chemicals into the blood stream through the gums and teeth. This means we should be mindful of everything we put on, near or in our mouths.
Simple Tooth Powder contains ingredients that are safe for your body and help restore healthy teeth and gums. This product is safe for kiddos once they learn to spit while brushing, instead of swallowing. As with most toothpastes and tooth powders, it's best to spit rather than swallow.
Simple Tooth Powder is available in 2 sizes: a 10 gram trial-size packet in a compostable paper packet and a 40 gram amber glass jar. Choose from three different flavors: mild Cinnamon, Minty Fresh or Sweet Orange. Also available in a trio of all three flavors.
Why a natural tooth powder?
Many commercial toothpastes have nasty chemical ingredients that absorb right into our blood stream every time we brush. Hormone disrupters? Cancer causing agents?!? WHAT!?? Get back to natural health instead with our Simple Tooth Powder in Mild Cinnamon, Minty Fresh or Sweet Orange. Easy to use, great for your mouth, and in an eco-friendly recyclable amber glass jar made in America.
Simple Apothecary's Simple Tooth Powder contains less sweetener than commercial toothpaste, so it may take a few uses for you to get used to an all-natural tooth powder. Stick with it for fresh breath, clean teeth and healthy gums!
How does it work?
Baking Soda (whitener/PH balance): Baking soda is a gentle abrasive that helps to eliminate stains, plaque and mouth odor. Baking soda also helps to create an alkaline environment in your mouth to allow for remineralization of the teeth.
Calcium Carbonate (remineralization): Calcium carbonate powder makes calcium available for your teeth, the main element of tooth enamel. It also has been shown to neutralize plaque acids.
Xylitol (sweetener/cavity prevention): Xylitol is a sweetener proven effective in the prevention and treatment. Simple Apothecary only uses non-GMO xylitol that is derived from birch. WARNING: XYLITOL IS TOXIC TO DOGS!
Himalayan Sea Salt (remineralization): Sea salt contains a wide variety of minerals that contribute to strengthening teeth and rebuilding enamel. Sea salt also stimulates saliva production, which is essential to oral health.
Bentonite Clay (binds to toxins/remineralization): Bentonite clay is thought to bind to heavy metals and toxins, allowing them to be flushed out. Bentonite clay also helps to remineralize teeth. Simple Apothecary only uses food-grade bentonite clay.
Raw Cacao Powder (cavity prevention/remineralization): Recent studies have shown the active ingredient in raw cacao powder, theobromine, actually outperforms fluoride in cavity treatment and prevention. Raw cacao powder also helps with remineralization of teeth.
Trace Minerals (remineralization): Trace minerals strengthen our teeth by rebuilding tooth enamel in a process called remineralization.
Essential Oils (flavor/oral health):
Essential oils provide a pleasing flavor to the tooth powder. Myrrh, wintergreen and clove oils are used in every flavor as they are antibacterial and anti-inflammatory. Essential oils are NOT safe to eat, so be sure to spit while brushing your teeth. Use of essential oils requires caution while nursing or pregnant and in children under age 6.
More Information
**KEEP AWAY FROM DOGS!! While xylitol naturally makes our tooth powder taste better and provides exceptional oral health benefits, it is TOXIC to dogs even in small doses. Please be mindful of your pets with this product!
As essential oils are a natural product, their potency will decrease over time. No synthetic preservatives are used. Please use within 6 months of purchase.
All Simple Apothecary products are handcrafted in small batches. Care is taken to ensure each jar is made to exacting standards and set with healing intentions.

Share
View full details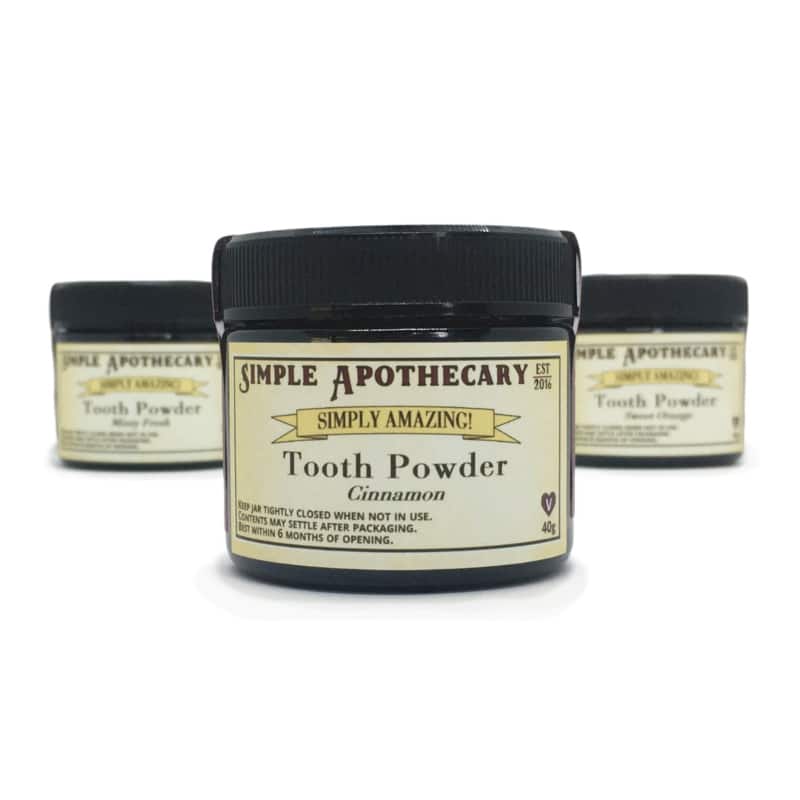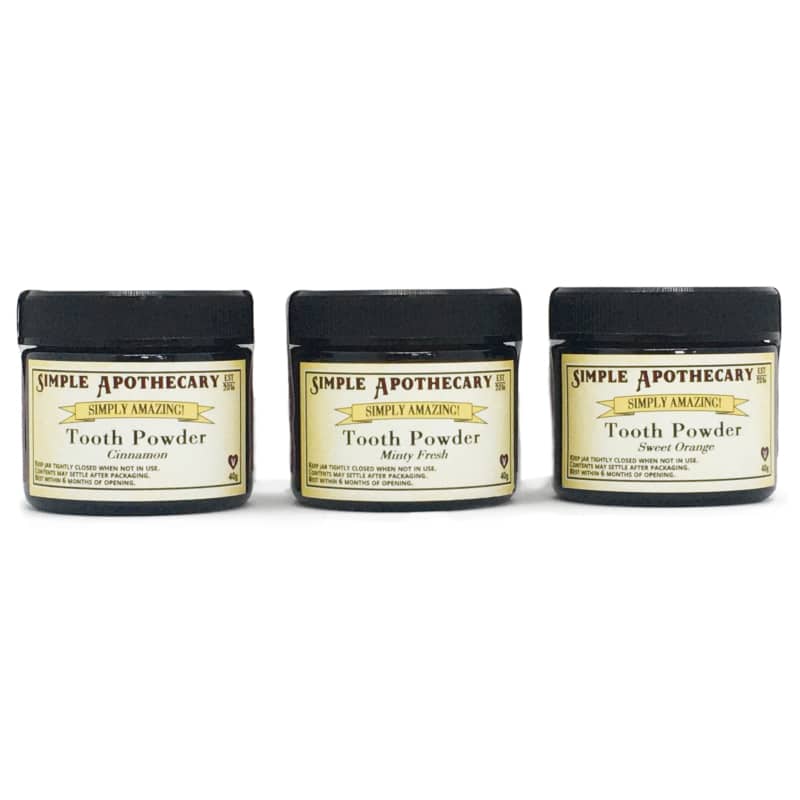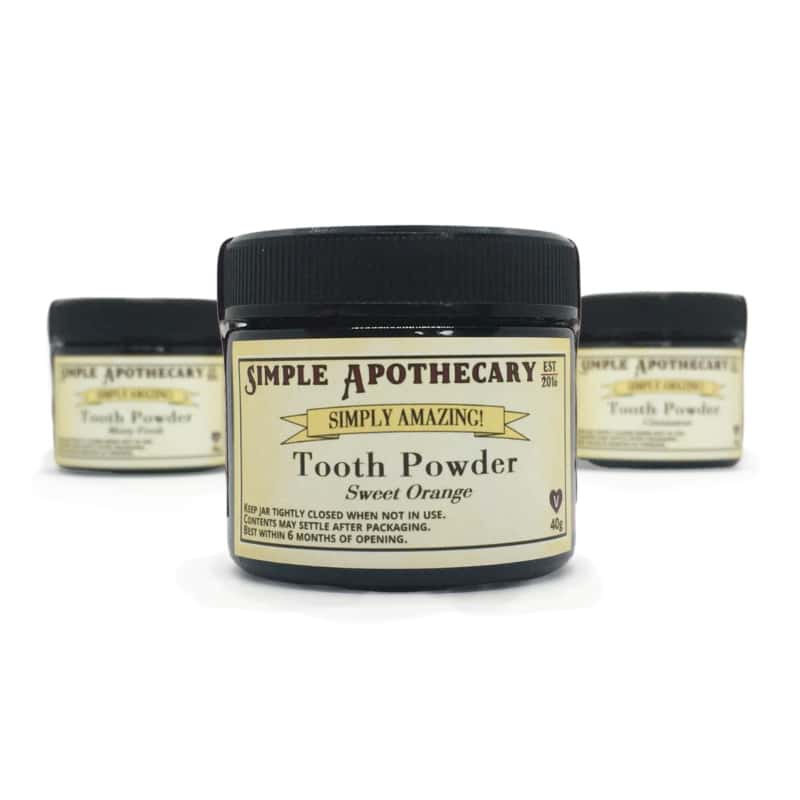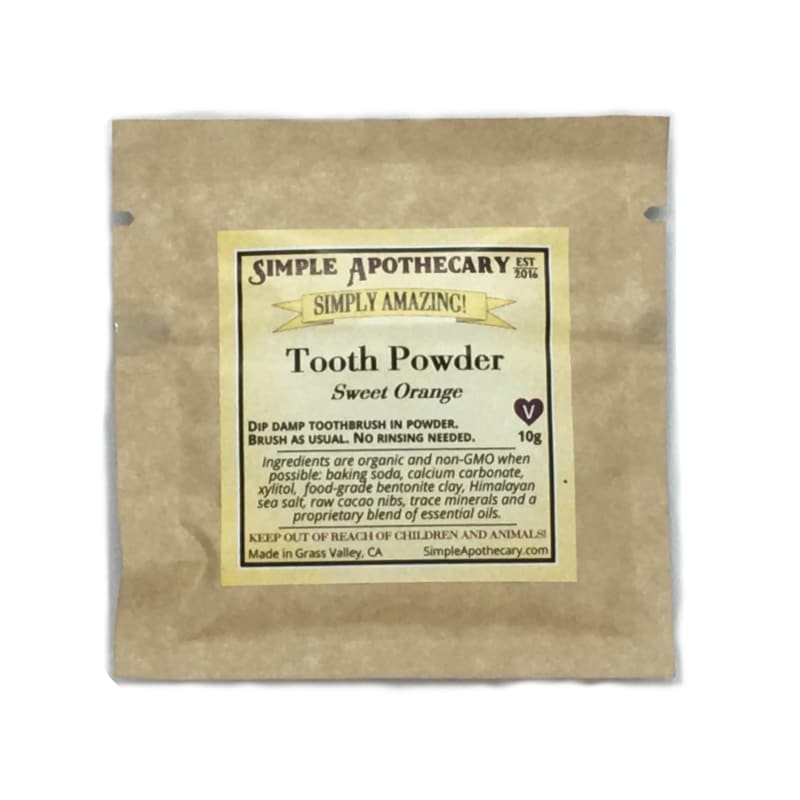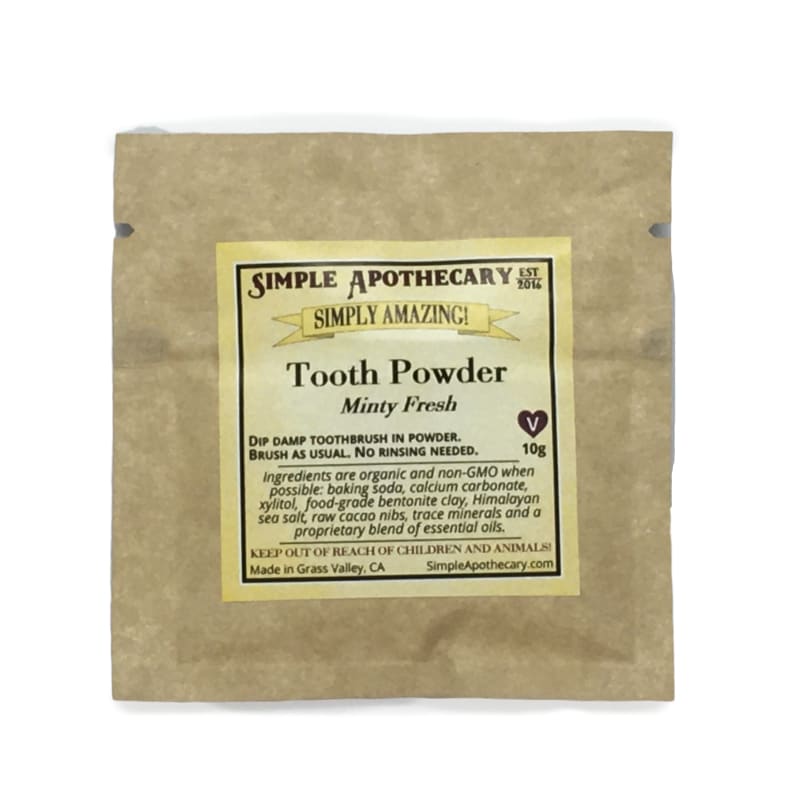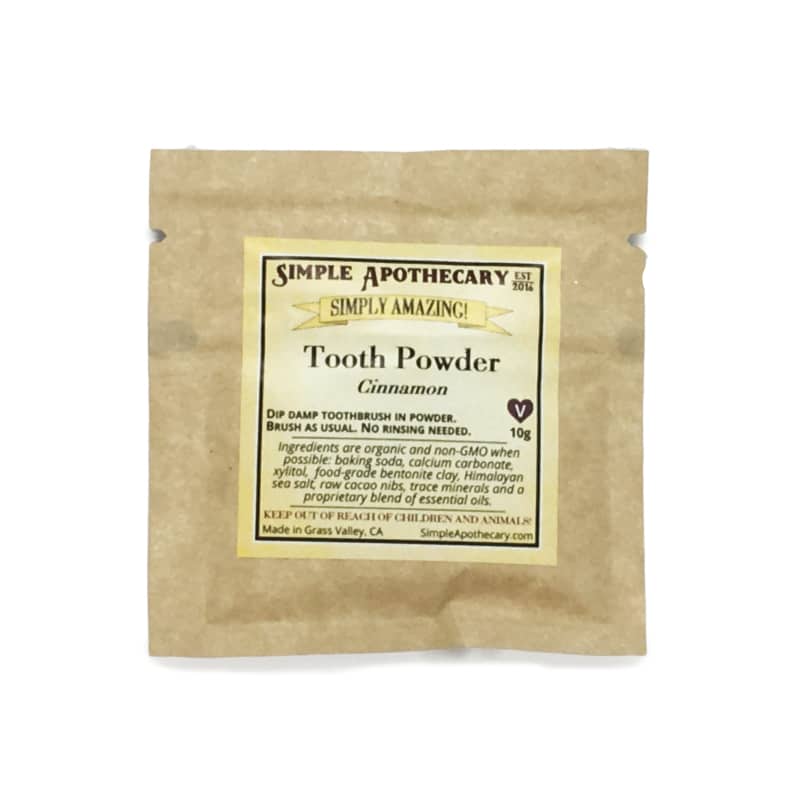 Set with Healing Intentions

Every handcrafted remedy from Simple Apothecary has been set with healing intentions. I consciously think about what this product will do when it reaches your hands!

Made with the Best Ingredients

I only use the best quality raw ingredients that are sustainably and ethically sourced. Everything is as organic and non-GMO as possible.